This Dentist-Approved Oral B Electric Toothbrush is Now 73% Off
4 min read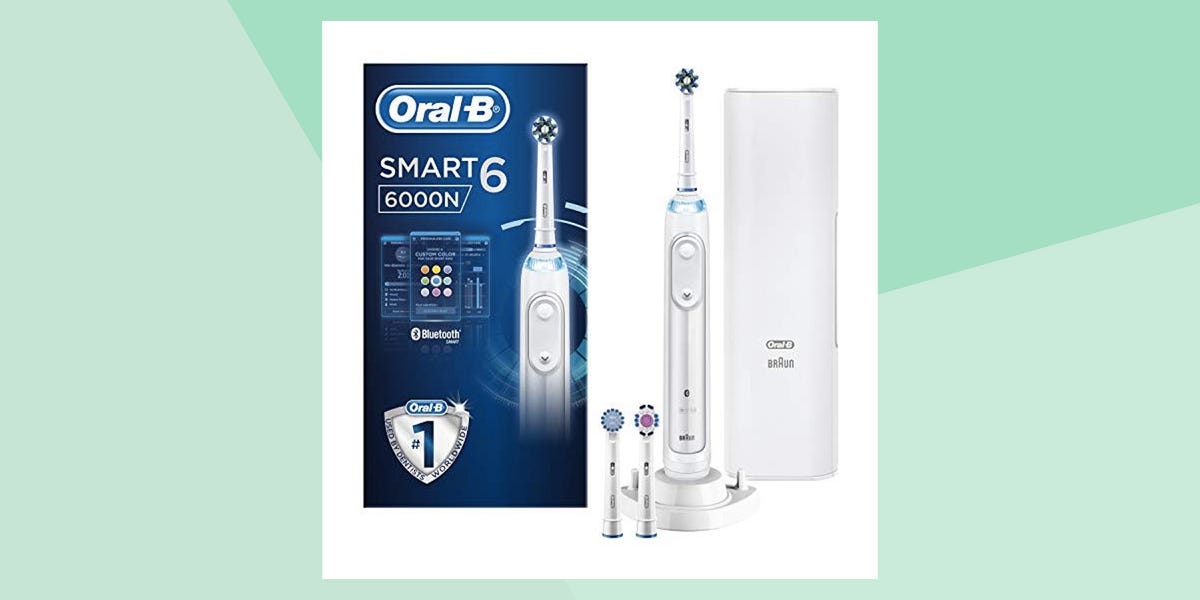 Well, what do you know – the big day is here. And if you're already feeling *slightly* fatigued and all shopped out by the Black Friday consumer frenzy? You're probably not alone.
But we simply must flag this Oral B Electric Toothbrush deal, which is live on Amazon, right now. Today, you can nab this model at 73% off – so £58.88, down from £219.99. As well as being an utter bargain, it comes with a pressure gauge and is also app-connected, so the quality of your twice-daily clean can be directed by the device's dentist-derived smart technology. Which is, well, pretty smart.
Plus, with over 11,000 5* reviews and a weighty accolade as an Amazon's Choice for 'best electric toothbrush,' this buy comes with serious recommendations behind it.
Why Should I Buy an Electric Toothbrush in The Black Friday Sales?
Now sure, an electric toothbrush isn't going to be at the top of your retail lust list. But if you're still seeing to your gnashers, morning and night, with a manual toothbrush – yes, even one of those eco-friendly bamboo guys – you could risk harming your dental health. Both now, and in the future.
It's all well and good thinking about cosmetic dentistry practices like teeth whitening and straightening. Interest in which has boomed since our pivot to home working and video calls caused so many of us to become hyper-vigilant over our faces.
A 2021 survey by the Oral Health Foundation found that 48% of adults say Zoom calls have made them more conscious about their smiles.
But if you're not adequately cleaning your teeth, gums and mouth then you're neglecting the foundations of good oral health. It's akin to dropping significant £££ on fancy serums to calm breakouts, without cleansing your face properly.
The Whole Health Case for Investing in an Electric Toothbrush
Not sure whether to take advantage of the Black Friday electric toothbrush sales?
It's worth reminding yourself that oral health doesn't exist in a vacuum; increasing evidence indicates that oral health can have a huge impact on your holistic health.
This content is imported from Instagram. You may be able to find the same content in another format, or you may be able to find more information, at their web site.
While more research is needed, a number of studies have linked infections in the mouth to serious, life-threatening diseases.According to the Oral Health Foundation: 'Recent large-scale studies have shown that the medical costs for patients with diabetes, cardiovascular disease or strokes, and for pregnant women, can be significantly less if their gum disease is treated thoroughly.'
'This is just another reason to make sure you always look after the health of your teeth and gums at home and visit the dental team regularly.'
Should You Get An Electric Toothbrush? One Hygienist Weighs In
This content is imported from Instagram. You may be able to find the same content in another format, or you may be able to find more information, at their web site.
Anna Middleton is an award-winning hygienist who practices out of the Chelsea dental practice (along with cosmetic dentistry titan Dr Rhona Eksander). She's also known by her Insta moniker @LondonHygienist.
'You get a far more superior clean and more plaque removal because you get more brush strokes per minute than you could ever generate yourself with a manual brush,' she explains.
'Electric toothbrushes have much smaller heads and are designed specifically to ensure each tooth is cleaned individually, helping you get to all the hard to reach areas.'
But it's not simply that you can deliver a more effective clean with using an electric toothbrush; you will get a gentler one, too. And that – for the long-term health of your teeth and gums – is seriously important.
'Using an electric toothbrush with the correct technique will prevent over-brushing, which causes irreversible and permanent wearing away of the gums, known as recession,' Anna warns.
'The exposed underlying tooth surface is not as strong as the tough outer enamel, leaving it more susceptible to further wear, dental decay, sensitivity and an unpleasing aesthetic appearance.'
Her final piece of advice when it comes to investing in an electric toothbrush? Look out for smart extras that can help you get a more thorough clean.
'Many [electric toothbrushes] come with Bluetooth connectivity and apps so you can track you cleaning and amplify your oral hygiene.'
This content is created and maintained by a third party, and imported onto this page to help users provide their email addresses. You may be able to find more information about this and similar content at piano.io

https://www.womenshealthmag.com/uk/health/a38359664/oral-b-electric-toothbrush-black-friday/