Raveena Aurora Interview on Beauty
5 min read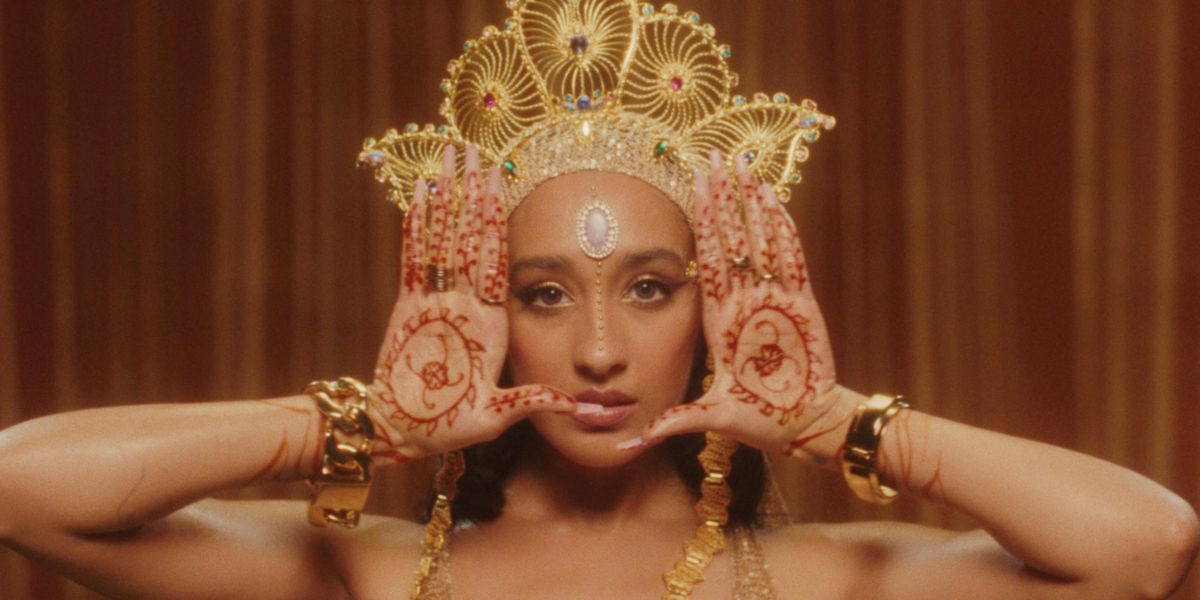 Welcome to On Beauty, a series where we take a deep-dive look into one person's relationship to beauty, how that relationship has transformed over the years, and how they experience being seen. This week, we're talking to Raveena, the 27-year-old singer whose experimental, eccentric, otherworldly approach to makeup is a way of building worlds around her signature brand of breezy pop and R&B.
Below, she explains how her family's focus on inner beauty shaped her outlook, how she got the courage to experiment with makeup, the philosophy behind her approach to beauty on her new album Asha's Awakening, and more.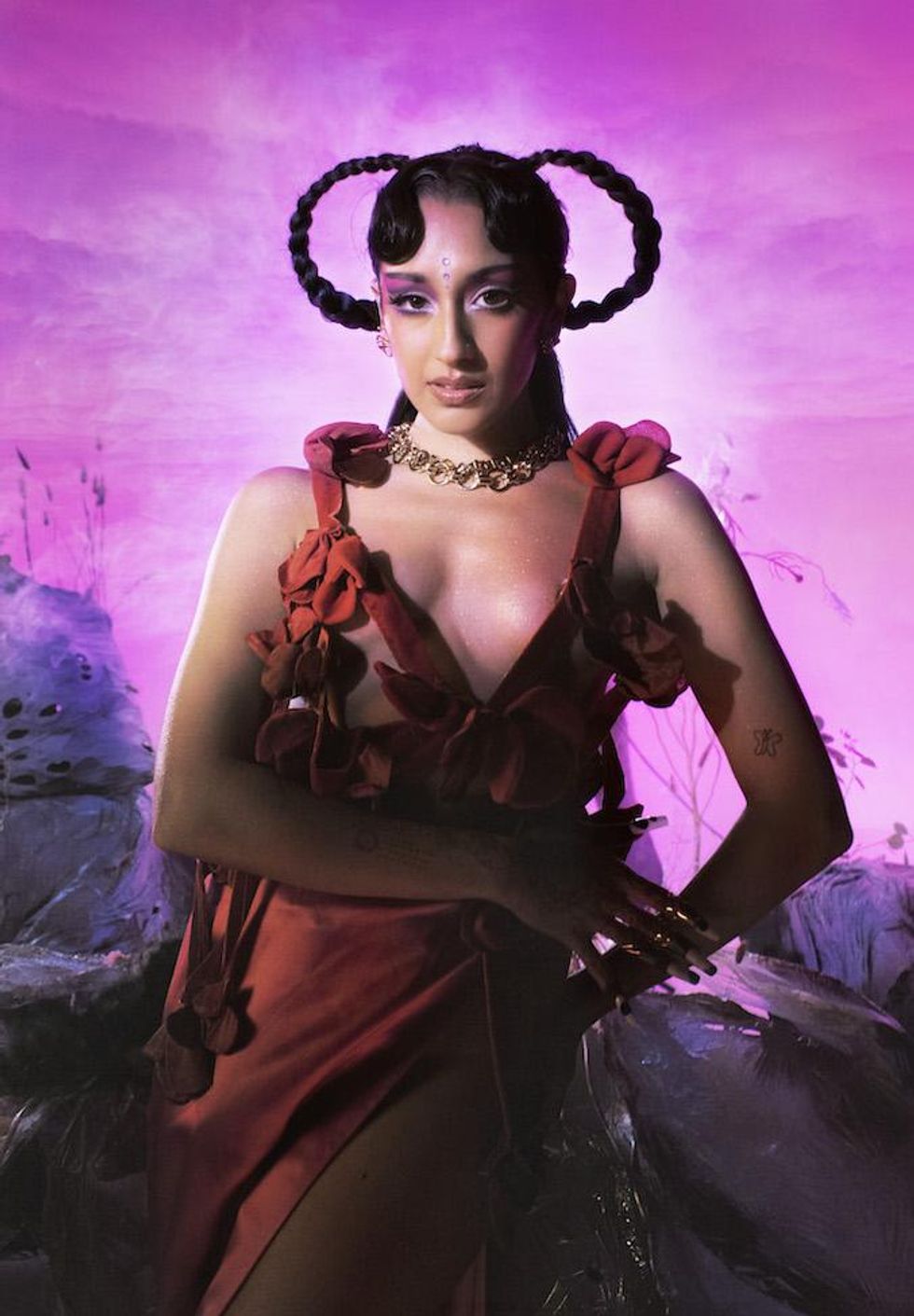 Photo: Furmaan Ahmed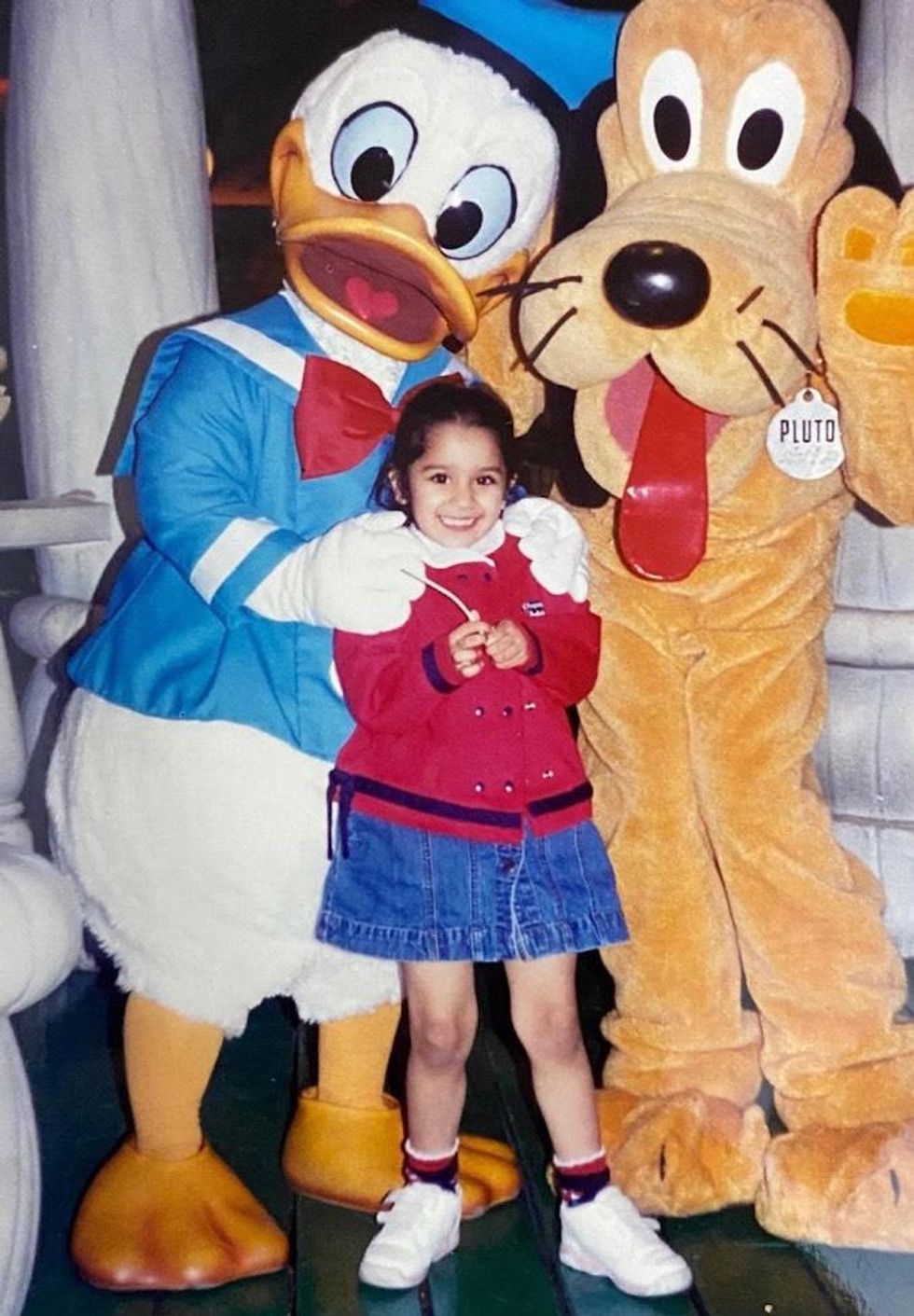 Raveena as a child.
"I grew up around very spiritual people, and it was a lot about having your innermost beauty be the most important thing—being kind and having that emanate from you. And I think that natural beauty was definitely emphasized. But in the same breath, there was also a conservatism. You know, Indian immigrant households are very conservative, and they're not open to being your most sexual and confident and free self, so it was like a double-edged sword.
"Until I was 18, I was very innocent. I only wore a swipe of mascara, and I was definitely on the introverted side with my approach to beauty—it was very child-like. I wasn't growing up too fast. I also had a mom that really affirmed me and told me that I was beautiful and that I didn't need to do anything. So, I think that actually helped me have a healthy sense of self-esteem, which I feel really blessed for. It made me not even think about my appearance that much until I was 18, then I got hyper-sexualized and it changed my whole idea of it.
"There was really nobody I could look up to in American film or media that looked like me. Maybe like M.I.A., but that was also when I was older. Bollywood was the one place where I saw noses that looked like mine and a skin tone that looked like mine and faces that looked like mine. It was, and still is, my way of being like, 'I feel beautiful, and looking at these people, I can see myself in them as well.'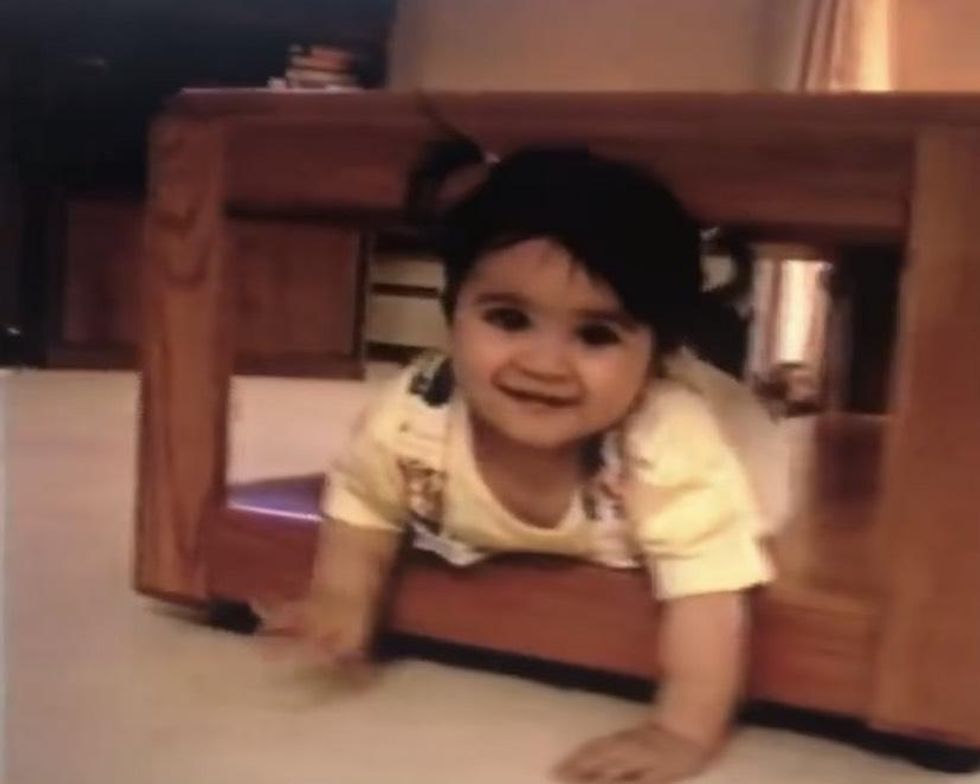 Raveena as a baby.
"I didn't really wear makeup until I started becoming an artist professionally, like three years ago. I remember in my first videos I didn't even want to wear eyeshadow. The first time I went all out with beauty was in the 'Temptation' video—that's when I was starting to tour a lot. It took me a long time to get comfortable with getting my makeup done. It's very scary in the beginning when you don't trust people, but I started to have faith that it could look cool. So, that's when I started playing with the gems on the eyes and color. I was immediately hooked. It was like, 'I have to do this every time. There's no other option.'
"I have a completely different approach [to beauty] for editorial, stage, and video shoots. Obviously, I try to do crazy looks every time, but the way I approach makeup is very different for each medium. But definitely, whenever I'm outward-facing, and I'm my performer self, it's all about being a character. Right now, I have zero makeup on. I'm generally so low-key and so chill about what I do in real life.
"In my personal life, I'm very connected to the most inner part of my soul, and I try to do that as much as I can, so makeup is when I'm making this outer body feel beautiful and alive and engaging in something very human and fun.
"Am I afraid of getting older? No. I embrace it. I honestly think we don't give enough credit to how beautiful older women look. To me, they look really gorgeous, and I'm kind of excited to age gracefully. I love this idea that if you're really in tune with your spirit and you're meditating and taking care of yourself, you can really have this glow about you that can last a lifetime. I saw that with my great-grandmother—she lived until she was 95 or 100. She was poor and living simply in India, she literally owned one comb and two hair clips, but she lived right next to the Sikh golden temple and she would go there and pray every day. She just had this glow about her. She didn't have money, she didn't have plastic surgery, she didn't have anything at all. But, she had spirit and that kept her looking beautiful for years."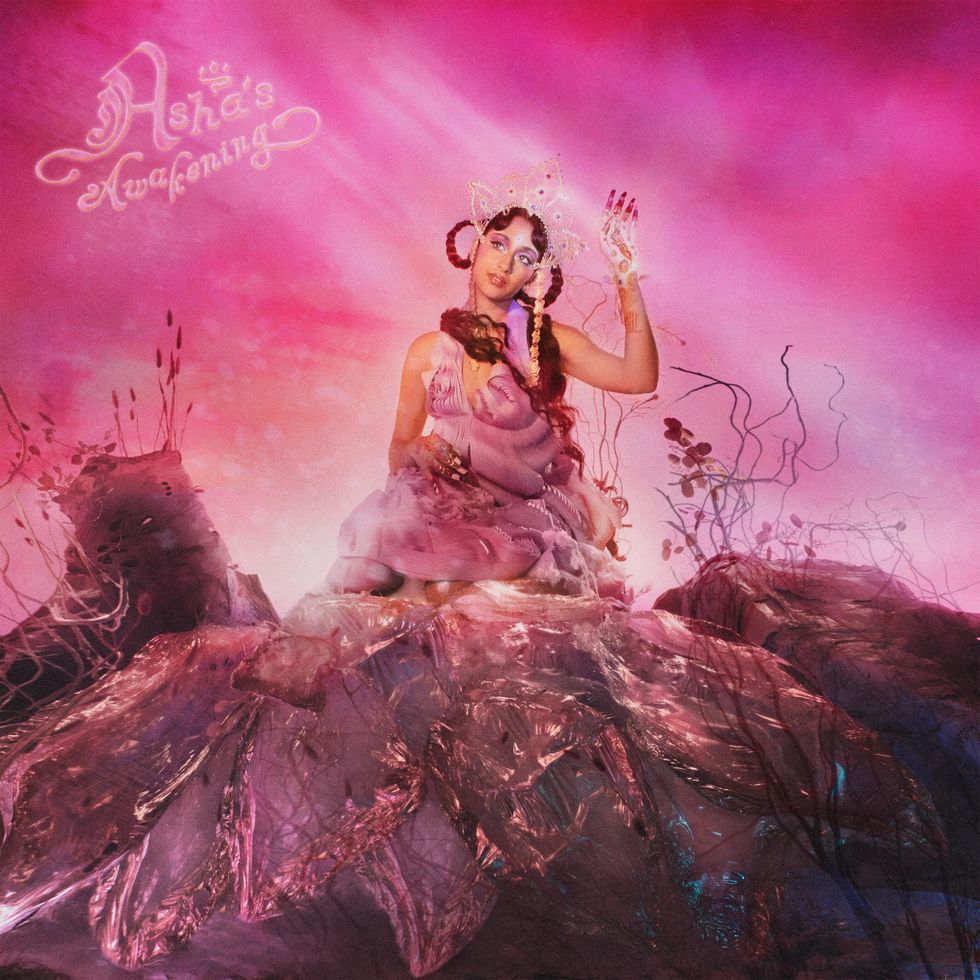 Cover art for Asha's Awakening.
"In Asha's Awakening compared to Lucid, I wanted to just feel a bit more confident and womanly in the way that I presented myself. A lot of Lucid was about connecting to my inner child. In Asha's Awakening, it was about awakening into this sexy womanhood.
"Visually, Asha's Awakening has such a defined and magical world around it. While I wanted to express this womanhood and sensuality that I was stepping into—because I'm growing up and exploring a new version of my beauty—I also wanted to pay homage to Bollywood in a lot of ways. That's a big part of the inspiration. And then, of course, sci-fi. So, I like to have a lot of fun with beauty. I like to take a lot of risks. I don't just like to ask the makeup artist to swipe on a standard wing and a good contour; I like to really work with artists and create something special and new when we work together.
"I had a lot of reckoning with beauty on this album because I think that there's a lot of pressure put on young female artists—especially artists of color—to be this sexy goddess all the time and have this really unattainable body. I definitely felt that pressure at one point. And not from anyone but myself, just comparison and looking at how intense the pressure to fit into a certain appearance was. But I kind of just reckoned with it, and the thing that has always made me beautiful to people was my spirit and I honestly had to let go of seeing bad photos of myself and thinking that may circulate on the internet and that's OK. I just have to live with that. A lot of feeling beautiful is not caring how you look."
I really feel the most beautiful and happy no makeup on , sunlight pouring over my skin , hair wet , in a bikini , somewhere in the forest

— Raveena (@Raveena)
1644696361
"I tweeted this literally the other day: I feel most beautiful when my hair is wet, I have no makeup on, I'm in a warm forest, and I'm in a bikini. And I've just eaten some fruits and vegetables, and I'm drinking water."
window.REBELMOUSE_ACTIVE_TASKS_QUEUE.push(function(){
var makeMonitor = (getStatus, cb, delay) => { delay = delay || 100; var monitor = () => { var time = +new Date(); var status = getStatus(); if (status) { return cb(status); } else { if (!stopMonitor && +new Date() - time < 30 * 60 * 1000) { monitorId = setTimeout(monitor, delay); } else { cb(false); } } }, cancel = () => { stopMonitor = true; clearInterval(monitorId); }; let monitorId, stopMonitor = false; return { start: monitor, cancel: cancel, }; };
var leftArrowCarrousel = makeMonitor( function () { return document.querySelector( ".shop-sidebar.shop-posts .posts-wrapper .slick-next" ); }, function (res) { res.addEventListener("click", () => { gtag("event", "Left Arrow Click", { event_category: "Shopping Module", event_label: "Previous product at carrousel", }); }); } );
leftArrowCarrousel.start();
var rightArrowCarrousel = makeMonitor( function () { return document.querySelector( ".shop-sidebar.shop-posts .posts-wrapper .slick-prev" ); }, function (res) { res.addEventListener("click", () => { gtag("event", "Right Arrow Click", { event_category: "Shopping Module", event_label: "Next product at carrousel", }); }); } );
rightArrowCarrousel.start();
var buyButton = makeMonitor( function () { return document.querySelectorAll( ".shop-sidebar.shop-posts .posts-wrapper .widget__product-buy-link-btn" ); }, function (res) { for (let button of res) { button.addEventListener("click", () => { gtag("event", "Buy button click", { event_category: "Shopping Module", event_label: `${button["href"]}`, }); }); } } );
buyButton.start();
var imageShopp = makeMonitor( function () { return document.querySelectorAll( ".shop-sidebar.shop-posts .posts-wrapper .widget__head a" ); }, function (res) { for (let image of res) { image.addEventListener("click", () => { gtag("event", "Image click", { event_category: "Shopping Module", event_label: `${image["href"]}`, }); }); } } );
imageShopp.start();
var productTitle = makeMonitor( function () { return document.querySelectorAll( ".shop-sidebar.shop-posts .posts-wrapper .widget__headline .widget__headline-text" ); }, function (res) { for (let product of res) { product.addEventListener("click", () => { gtag("event", "Product title click", { event_category: "Shopping Module", event_label: `${product["href"]}`, }); }); } } );
productTitle.start();
});
window.REBELMOUSE_ACTIVE_TASKS_QUEUE.push(function(){
window.REBELMOUSE_STDLIB.loadExternalScript("https://s.skimresources.com/js/150311X1615657.skimlinks.js", function() {
});
});
window.REBELMOUSE_ACTIVE_TASKS_QUEUE.push(function(){
!function(f,b,e,v,n,t,s){if(f.fbq)return;n=f.fbq=function(){n.callMethod?n.callMethod.apply(n,arguments):n.queue.push(arguments)};if(!f._fbq)f._fbq=n;n.push=n;n.loaded=!0;n.version='2.0';n.queue=[];t=b.createElement(e);t.async=!0;t.src=v;s=b.getElementsByTagName(e)[0];s.parentNode.insertBefore(t,s)}(window, document,'script','https://connect.facebook.net/en_US/fbevents.js');fbq('init', '1248680838922690');fbq('track', 'PageView');
});
window.REBELMOUSE_ACTIVE_TASKS_QUEUE.push(function(){
window.REBELMOUSE_STDLIB.onElementInViewport({ threshold: 400, selector: "video", oneTime: true, onIntersect: function(entry){ var element = entry.target; element.setAttribute("allow","autoplay"); element.loop = true; element.muted = true; element.autoplay = true; element.setAttribute("playsinline","true"); //element.controls = false; element.play(); } });
});
https://coveteur.com/raveena-aurora-on-beauty