Our Beauty Director On Overcoming Sleep Struggles
4 min read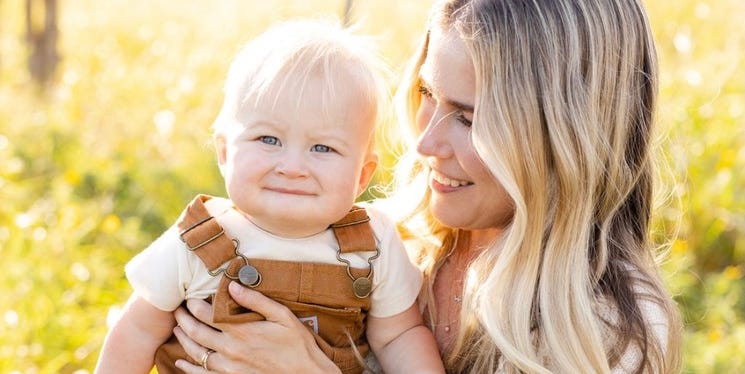 Ask any sleep-deprived new mom and she will confess nothing can really prepare you for how tough the first few months of motherhood are. Despite the joy of having a new baby, the serious lack of sleep, endless nursing, and being responsible for a living breathing human is a total shock to the system. As Women's Health Beauty Director Chelsea Burns discovered when she welcomed son Calvin in November 2020.
"As much as anybody could have warned me, you're still not prepared for how exhausted you are—not only physically because you're literally not sleeping, but also mentally, because you're dealing with this new human and not knowing what they need," she says.
Burns recalls spending the first few months in a daze. Distracted by the challenges of having a new baby, she barely noticed she was running on adrenaline—and the impact that was having on our skin, body, and wellbeing. When her sister pointed out how tired she looked, Burns knew she had to make more time for herself. Leaning into her experience as a beauty director, she decided to make self-care, including her beauty routine, a priority. Here, she shares her journey.
"I Streamlined My Skincare"
Rich in love but poor on time, Burns set about streamlining her skincare routine. First things first: Bringing retinol back into the mix with Olay Regenerist Retinol 24 Max Night Face Moisturizer. "I wasn't able to use this miracle ingredient while I was pregnant or breastfeeding and let's just say, coupled with my lack of sleep, it was starting to show." On the flip side, something she cut out: cleansing every single morning. Noting that her formerly oily skin was much drier post-baby—sleep deprivation can weaken the skin barrier and cause dehydration—she skipped the AM cleanser. Now she washes her face at night with a creamy and gentle cleanser. The Olay Vitamin C Cleanser gently exfoliates so she doesn't over scrub.
In the morning, she just splashes her face with water then applies a moisturizer with SPF. "When your skin is hydrated it doesn't look as tired," Burns explains. She also loves that she gets both hydration and sun protection in a single step.
Add these to your beauty routine to help get things glowing again.
"I Created A Sacred Skincare Ritual"
Burns also gave herself permission to turn her daily skincare routine into a private moment of peace. "I realized that Calvin's going to be okay if I make space for myself," she says. "I look forward to that time by myself in the bathroom—nobody crying, my husband not asking me a question about the baby—it's so peaceful." These moments, no matter how brief, get Burns into a better headspace for the day—and ultimately make her feel like a better mom.
"I also carve out a little longer for my skincare routine at night when Calvin's already asleep," Burns says. This lets her hone in on her skin's changing issues after becoming a mom.
"I've noticed some hyperpigmentation, which can be a side effect of hormones post-pregnancy, so I use products with vitamin C to help even things out." Next, she applies Olay Vitamin C Facial Moisturizer which promises to brighten skin and restore radiance to a dull complexion. Burns considers it a godsend for new moms who want to glow as if they've had the perfect night's sleep. Taking time to actually enjoy her skincare routine also leaves Burns feeling "more relaxed," she says, which helps improve the quality of her sleep.
"I Switched Off"
Burns also learned to switch off and make time for the little things she enjoys, like taking a coffee break in the morning while Calvin is still sleeping, chilling with her husband at night watching Netflix, and taking long walks with her son. "I live near a park and we would just walk and walk. Getting some fresh air and the sun on my face also helped me feel better and calmer." Bonus: Exercising releases endorphins that boost your mood, lower stress levels, and help promote a good night's sleep.
"I Expressed Gratitude"
Burns is a big believer in the stress-relieving power of being thankful—even on the fly. "When I'm washing my face or massaging in my moisturizer, I try to go through what I'm grateful for in my head," she says. She's onto something: Studies show practicing gratitude can improve your overall sense of well-being.
Here's to being grateful for precious moments, reclaiming your routine, bringing back the glow, and basking in the healing, rejuvenating powers of a good night's sleep.
---
Get your Olay regimen now at Walgreens or Walgreens.com.
This content is created and maintained by a third party, and imported onto this page to help users provide their email addresses. You may be able to find more information about this and similar content at piano.io

https://www.womenshealthmag.com/beauty/a38093560/our-beauty-director-on-overcoming-sleep-struggles/