Looking for healthy food options near campus? We got you covered | Lifestyle
3 min read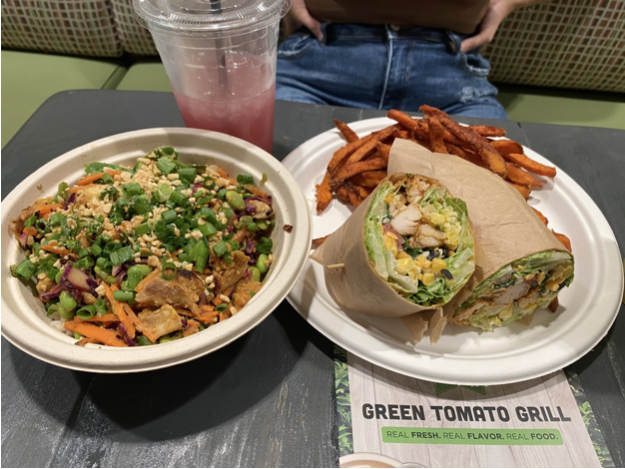 There are many food options around campus and it can be difficult to filter through what's junk and what is nutritious. It begs the question, "What does it take for a student to find a tasty, health-conscious restaurant near campus?" Don't worry. If you are looking for healthy food options within a 10-minute drive from campus, then this list is for you. 
Green Tomato Grill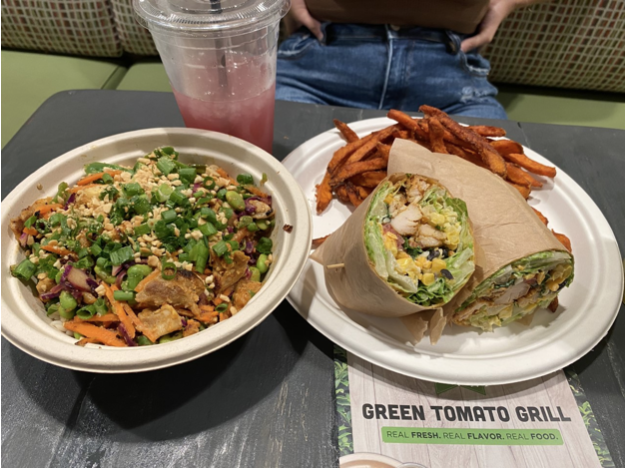 Green Tomato Grill's menu features fast, healthy food with various gluten-free, dairy-free, vegetarian and vegan options. This is less than a 10-minute drive from campus, located between Brea and State College boulevards. 
Jacob Lemos, the flex general manager at Green Tomato Grill, says that their three most popular dishes are the Chile Verde bowl, chimichurri chicken melt and the ranch wrap.
Lemos said he considered having a well-balanced meal important to avoid feeling heavy.
"I used to be in sports, so always eating healthy was the go-to," Lemos said.
Green Tomato Grill is welcoming, and the aesthetics fit the healthy and green atmosphere of the restaurant.
The Poke Co.
The Poke Co. menu features a build-your-own poke bowl from base, toppings, veggies, protein, dressings and garnishes. It is located between Commonwealth Avenue and Harbor Boulevard — a seven-minute drive from campus.
Karina Lopez, a second-year criminal justice student at Fullerton College, has been a customer of Poke Co. for about six months and she enjoys being able to customize what she wants to put in her bowl.
"One of my friends at Fullerton College recommended me the spot, and since it's local, I decided after class I would walk and try it out, and ever since then, I love poke," Lopez said.
As a student, when choosing a healthy spot to eat, she makes sure they have good carbs, which means high in protein and high carbs.
Chicana Vegana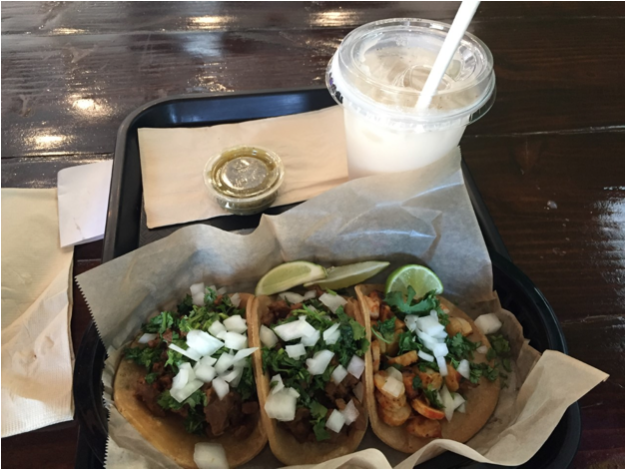 The Chicana Vegana's menu is composed of 100% vegan options. It is a plant-based Mexican American inspired restaurant that offers numerous options like tacos, burritos, burgers, desserts and vegan drinks. It is located in downtown Fullerton between Commonwealth Avenue and Harbor Boulevard and about a seven-minute drive from Cal State Fullerton.
Cristian Magana, a legal assistant at Sundance copy service, said eating healthy is very important to him. He recently became vegan and said that this energy levels have improved since then.
"If I lived in an area without any healthy food places, I would probably run out and go somewhere where there is," Magana said.
Magana said that what he likes about Chicana Vegana is that no matter what he decides to get from the menu, he can feel safe that he's not going to be eating any animal products.
Chicana Vegana features a very artistic atmosphere with bright colors all over the restaurant.
There are a lot of food options around campus; however, the difficult part is finding healthy spots within short distances. So these three restaurants are perfect for offering numerous options for every person looking for health-conscious grub.
https://dailytitan.com/lifestyle/looking-for-healthy-food-options-near-campus-we-got-you-covered/article_1749ad3c-1c24-11ec-9c9a-4b55eeddaef7.html