Golde Founder Trinity Mouzon Wofford
6 min read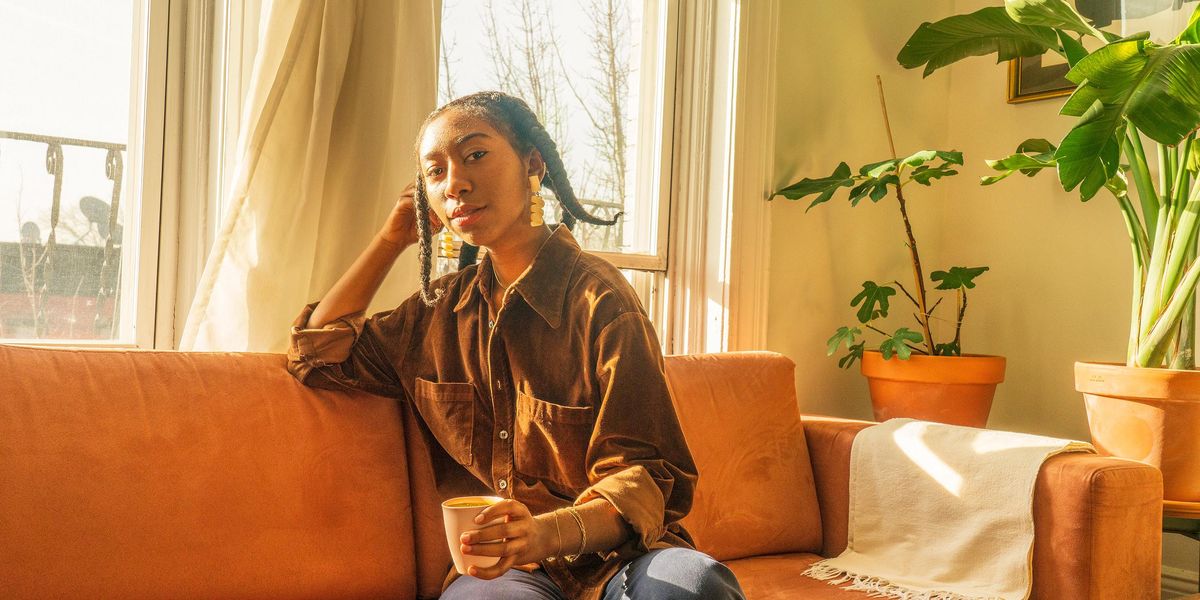 To say that March 2020 rocked the world to its mind, body, and soul is the understatement of the decade. In a world filled with hustle and bustle, we were forced to come to a standstill in a society running on #TeamNoSleep and abiding by the rules of the grind culture. When the Center for Disease Control and Prevention said "stop," we stopped with no questions asked.
Unfortunately, we didn't know what this would do for our day-to-day lives. Many of us adjusted to the idea of taking our daily commute to work every day and transforming it into Zoom meetings with our pajamas still on from the waist down. For those of us who were embarking on entrepreneurial or freelance journeys, our paths took a bit of a hit as we figured out ways to market to a consumer who was indoors just as much as the product developer. All in all, it was agreeable that self-care was needed as an avenue to quiet the noise in our heads filled with fear, doubt, agitation, and uncertainty.
During a time of racial reckoning amid the height of the Black Lives Matter movement, Black-owned businesses were pushed to the forefront of larger brands and corporations' agendas as a means of support. However, long before the murders of Breonna Taylor, George Floyd, Ahmaud Arbery—and the countless other brothers and sisters we lost throughout the years—Black folks have demonstrated their hard work and entrepreneurial skillset. It wasn't until the pandemic that actively supporting Black- and minority-owned businesses became a priority to most that didn't empathize with our journey.
Twenty-nine-year-old Trinity Mouzon Wofford has been putting on for the Black community, successfully maintaining a business throughout the dismal 2020 economic hit thanks to the pandemic. As the founder and CEO of wellness brand Golde, Wofford has reclaimed the wellness and beauty industry for Black women while managing to earn five times the revenue that she had the year before. Known as a cult favorite, Golde is widely recognized for its face masks and superfood lattes, which have been supported by Kourtney Kardashian and Beyoncé. Yes, our Beyoncé.
Founded in 2017 with her former partner and high school sweetheart Issey Kobori, Wofford created Golde as a means to provide more accessible, natural products to Black women and women of color. "I was always sort of entrepreneurial in that I both loved coming up with my own little ideas and I never took all that well to others' direction," Wofford tells Coveteur about her inspiration behind going the entrepreneur way. "I think being Black was part of what gave me the nerve to do it—that sense of, if what's here isn't working for me, I'll just make it myself. There are so many generations of Black women doing that. I just had to follow that blueprint of tenacity."
Ahead of Black History Month, Wofford caught up with Coveteur about the relationship between beauty and wellness in the Black community, her personal relationship with beauty, and her hopes for diversity in the beauty industry.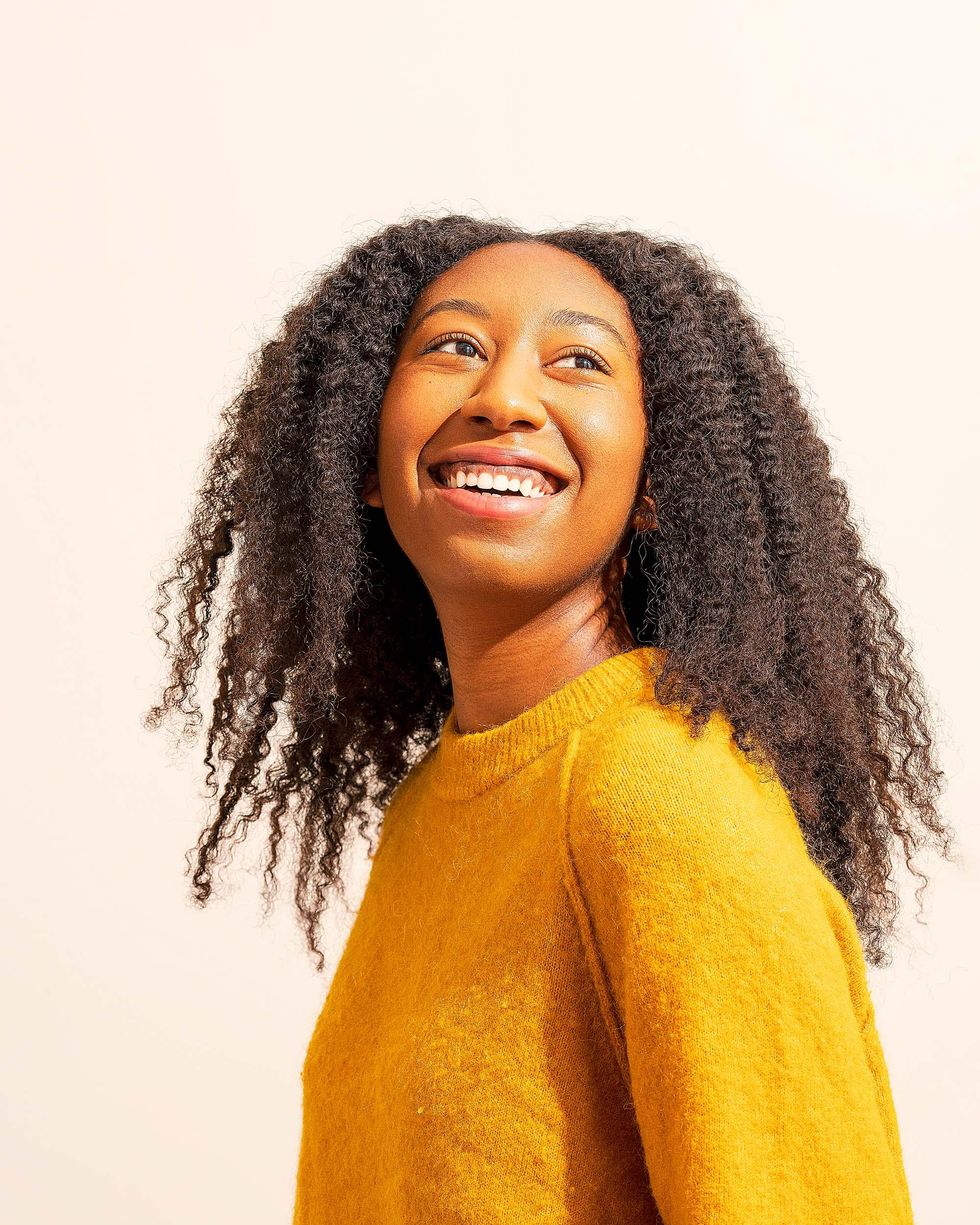 What's the importance of Black History Month, and how have you seen #BlackLivesMatter shift these conversations?

Black History Month is a time for reflection, recognition, celebration, and pride. We take this time to see how far we've come, and yet how far we still have to go. I think the #BlackLivesMatter movement has brought that much more front and center for people around the world, so I hope it's created a deeper meaning to that time of recognition for all of us.
Why is it important to talk about Black beauty and style when discussing Black History Month?

Black beauty and style isn't just "Black"—it's a global force that impacts the trends and aesthetics of people around the world. We've simply got to give credit where credit is due.
How important is it to "Buy Black" and support Black-owned businesses and brands?

In today's capitalist society, we vote with our dollars. We build the future world we want to live in with where we spend our money. If you want to see more independent businesses, more sustainable businesses, or more Black-owned businesses, you have to actively work to support them whenever you can. The consumer wields a massive power to shape the world they wish to see.
Who are some of your major Black way pavers and pathmakers in the beauty industry?

They've been in every generation and continue to move us forward. Obviously, there are the big, storied names like Madam C.J. Walker or Rihanna's impact with Fenty Beauty, but I think every Black person building a beauty brand today is working to shape the industry. We all lift one another up through our shared progress and wins.
How have you seen beauty and wellness industries change over the course of the years for Black women?

I think we've seen a lot of growth toward the inclusivity of Black women in the beauty industry. Black women are the faces of global campaigns, and we're also seeing the representation of a variety of Black women. It's not just the one light-skinned girl thrown in to make a project "diverse." I'd still like to see more diverse representation in the wellness space specifically, but I think we are seeing improvements there.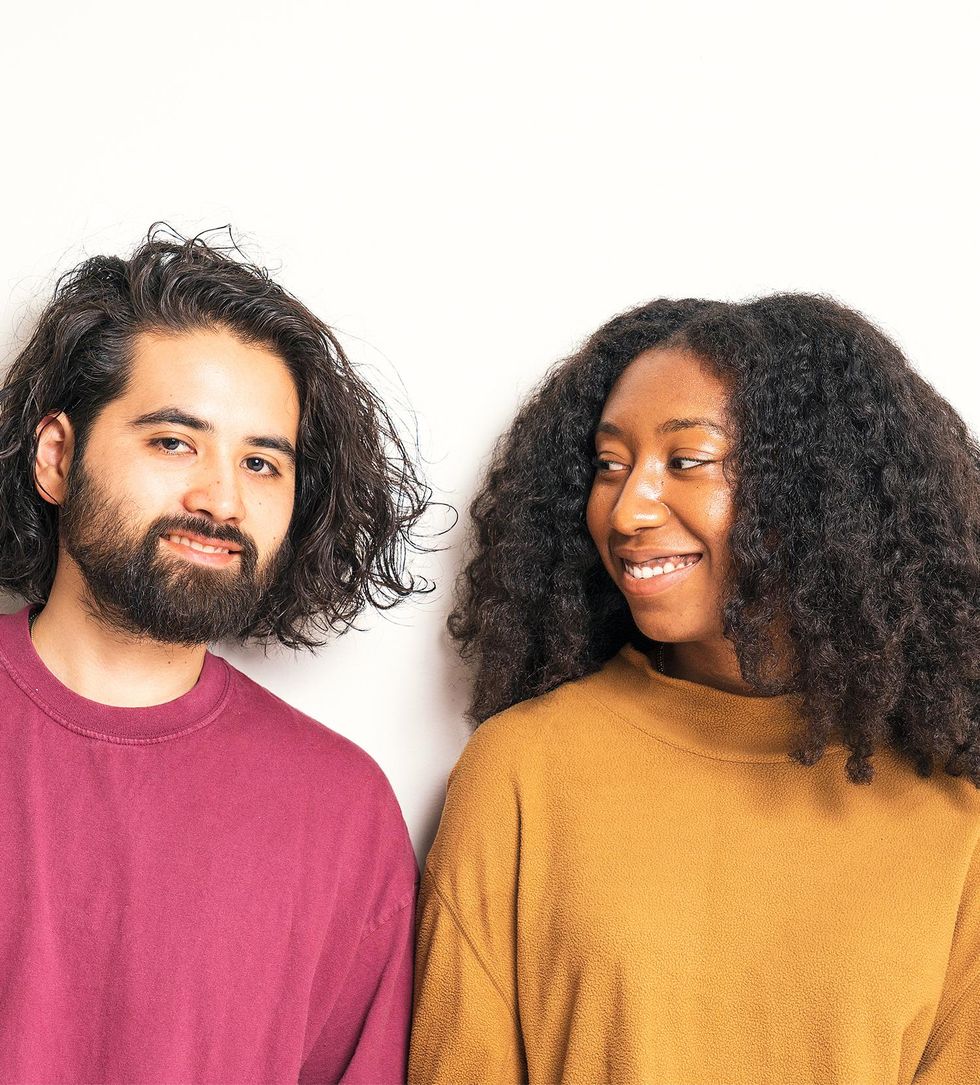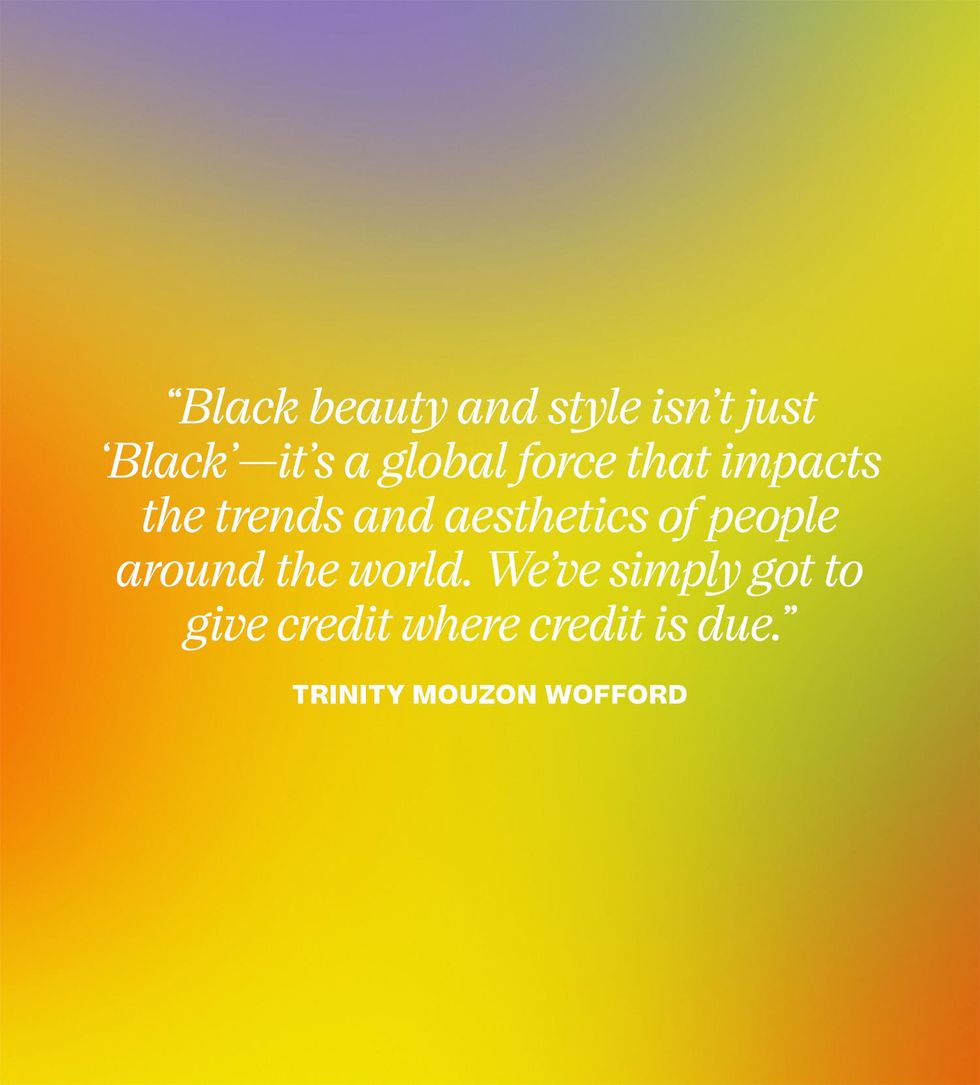 How do you view the relationship between beauty and wellness?
I think beauty and wellness are really intricately connected. To me, they're almost one and the same. It all comes down to self-care and feeling like your best self. When I braid my hair up, it's equal parts aesthetics and a meditative process. When you feel good, you look good.
What's your earliest beauty memory?

I always loved to do little natural beauty treatments for myself or my mom. Avocado face masks, all of that. My earliest beauty memory is with my mom too, and it's the Black girl classic of sitting on the floor while she would braid my hair up. There were definitely some tears during that process, but what little kid isn't tender-headed? It brought us together, too.
How important is it for young Black girls to see themselves in the beauty industry, and how have you seen beauty brands' diversity and inclusion efforts evolve over the years?
Growing up, I had very little representation of people who looked like me in the beauty world. That definitely had a major impact on my self-esteem and my understanding of beauty standards. Seeing a range of skin tones, hair types, and body shapes in advertisements now is such a leap forward from 10 or 20 years ago. I think we still just need to ensure that the progress being made isn't just in the advertisements. I don't just want to see representation in a new product launch, I want it in the boardroom, too.
What do beauty and personal expression mean to you as a Black woman?

I think it's simultaneously this really personal thing, but it's also a shared point of connection across Black women. You connect on hair tips, skin-care products, etc. in a way that's really special. As a Black woman, your unique beauty style is both for you and for us.
In times of distress, especially during the pandemic and social unrest, what keeps you motivated to continue to do your work?

Now we have a team, which sort of changes everything. It's not just about you and what you want to do anymore. You have a group of people who are bought into this mission, and it's your responsibility to guide them through the good times and the bad.
What is your hope for the future of the beauty industry?
I think we are making incredible progress, but we still need to see more Black and brown women in leadership roles in the beauty industry. The real change has to start from the top.
window.REBELMOUSE_ACTIVE_TASKS_QUEUE.push(function(){
var makeMonitor = (getStatus, cb, delay) => { delay = delay || 100; var monitor = () => { var time = +new Date(); var status = getStatus(); if (status) { return cb(status); } else { if (!stopMonitor && +new Date() - time < 30 * 60 * 1000) { monitorId = setTimeout(monitor, delay); } else { cb(false); } } }, cancel = () => { stopMonitor = true; clearInterval(monitorId); }; let monitorId, stopMonitor = false; return { start: monitor, cancel: cancel, }; };
var leftArrowCarrousel = makeMonitor( function () { return document.querySelector( ".shop-sidebar.shop-posts .posts-wrapper .slick-next" ); }, function (res) { res.addEventListener("click", () => { gtag("event", "Left Arrow Click", { event_category: "Shopping Module", event_label: "Previous product at carrousel", }); }); } );
leftArrowCarrousel.start();
var rightArrowCarrousel = makeMonitor( function () { return document.querySelector( ".shop-sidebar.shop-posts .posts-wrapper .slick-prev" ); }, function (res) { res.addEventListener("click", () => { gtag("event", "Right Arrow Click", { event_category: "Shopping Module", event_label: "Next product at carrousel", }); }); } );
rightArrowCarrousel.start();
var buyButton = makeMonitor( function () { return document.querySelectorAll( ".shop-sidebar.shop-posts .posts-wrapper .widget__product-buy-link-btn" ); }, function (res) { for (let button of res) { button.addEventListener("click", () => { gtag("event", "Buy button click", { event_category: "Shopping Module", event_label: `${button["href"]}`, }); }); } } );
buyButton.start();
var imageShopp = makeMonitor( function () { return document.querySelectorAll( ".shop-sidebar.shop-posts .posts-wrapper .widget__head a" ); }, function (res) { for (let image of res) { image.addEventListener("click", () => { gtag("event", "Image click", { event_category: "Shopping Module", event_label: `${image["href"]}`, }); }); } } );
imageShopp.start();
var productTitle = makeMonitor( function () { return document.querySelectorAll( ".shop-sidebar.shop-posts .posts-wrapper .widget__headline .widget__headline-text" ); }, function (res) { for (let product of res) { product.addEventListener("click", () => { gtag("event", "Product title click", { event_category: "Shopping Module", event_label: `${product["href"]}`, }); }); } } );
productTitle.start();
});
window.REBELMOUSE_ACTIVE_TASKS_QUEUE.push(function(){
window.REBELMOUSE_STDLIB.loadExternalScript("https://s.skimresources.com/js/150311X1615657.skimlinks.js", function() {
});
});
window.REBELMOUSE_ACTIVE_TASKS_QUEUE.push(function(){
!function(f,b,e,v,n,t,s){if(f.fbq)return;n=f.fbq=function(){n.callMethod?n.callMethod.apply(n,arguments):n.queue.push(arguments)};if(!f._fbq)f._fbq=n;n.push=n;n.loaded=!0;n.version='2.0';n.queue=[];t=b.createElement(e);t.async=!0;t.src=v;s=b.getElementsByTagName(e)[0];s.parentNode.insertBefore(t,s)}(window, document,'script','https://connect.facebook.net/en_US/fbevents.js');fbq('init', '1248680838922690');fbq('track', 'PageView');
});
window.REBELMOUSE_ACTIVE_TASKS_QUEUE.push(function(){
window.REBELMOUSE_STDLIB.onElementInViewport({ threshold: 400, selector: "video", oneTime: true, onIntersect: function(entry){ var element = entry.target; element.setAttribute("allow","autoplay"); element.loop = true; element.muted = true; element.autoplay = true; element.setAttribute("playsinline","true"); //element.controls = false; element.play(); } });
});
https://coveteur.com/golde-founder-trinity-mouzon-wofford