Eat This, Not That! Food Awards
4 min read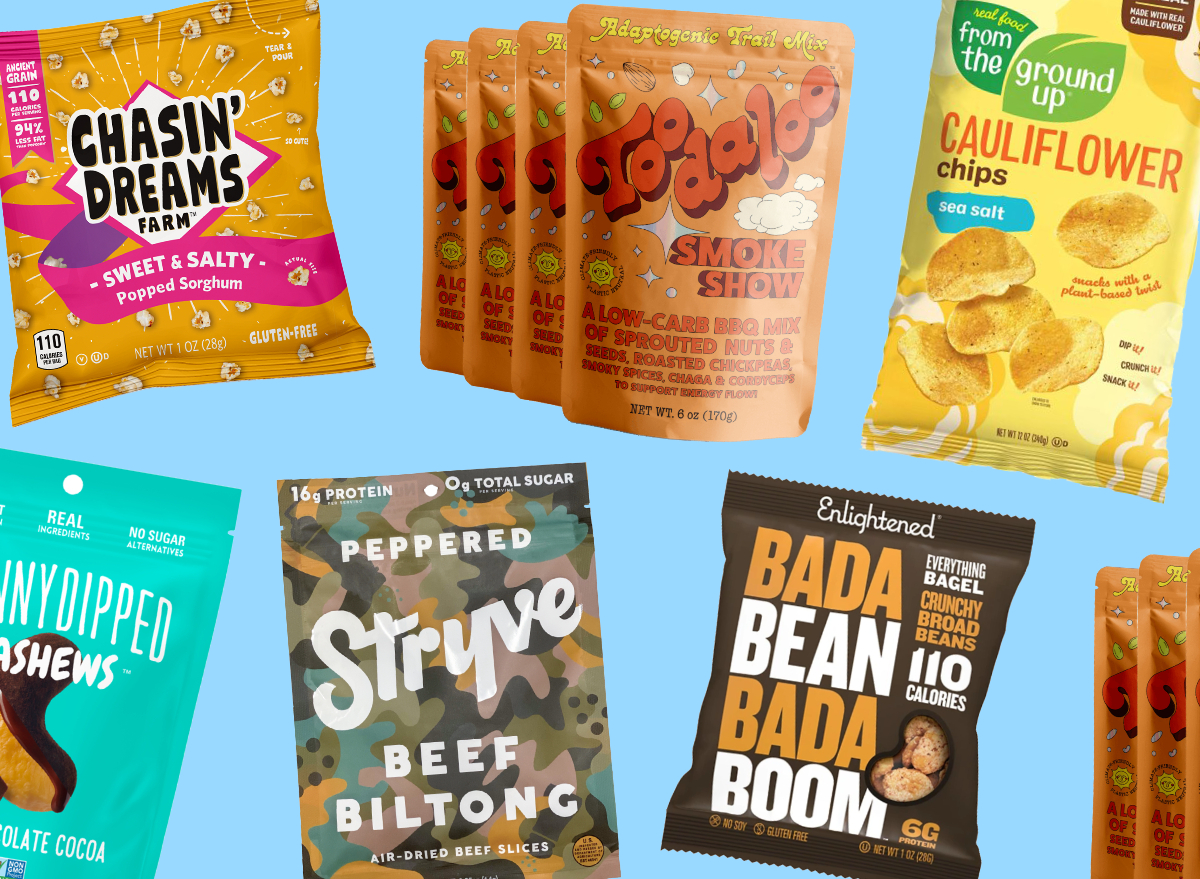 This story is part of our 2022 Eat This, Not That! Food Awards. Our editors worked with registered dietitians from our Medical Expert Board to put hundreds of the newest grocery items to the test, crowning 79 products as the healthiest (and tastiest!) winners. Read more about our judging process and check out the winners in 7 other exciting categories here! If you buy any of the winning products through the links below, know that we may earn a commission.
With a ton of restaurants closed, cooking fatigue still going strong from 2020, and nothing else to do but curl up on the couch and binge-watch yet another TV show, snacks became much more than comfort food during 2021. Snacks were one of the primary ways Americans nourished themselves.
While many of us gravitated towards childhood favorites (think sugary cereals or neon-colored chips) to satisfy our cravings, others were on the lookout for some more health-supporting options. Thankfully, food brands were on the same page—so much so that a whopping 100 new healthy snacks that launched nationwide between January 1, 2020 and June 30, 2021 on grocery store shelves were nominated for the 2022 Eat This, Not That! Food Awards.
In the end, 13 snack products stood out from the rest with their impressive nutrition and great taste. Eat This, Not That! Medical Expert Board member Lauren Manaker, MS, RD, CDN, helped rate the products and choose the winners, then we taste-tested each one. Read on for our honest reviews—and to see where you can buy the winners!
The Best Healthy Snacks in 2022:
Best healthy bar: CORE Coconut Bar
Best health bean-based snack: Bada Bean Bada Boom Everything Bagel
Best healthy cheese snack: Whisps Hot & Spicy
Best healthy chips: REAL FOOD FROM THE GROUND UP Cauliflower Potato Chips
Best healthy crackers: Ancient Provisions Cheddar Cheezish Gluten-Free Crackers
Best healthy dip: Chosen Foods Guacamole, Avocado Tomatillo Salsa
Best healthy fruit snack: Solely Organic Whole Fruit Gummies, Mango
Best healthy keto snack: KEHO Curry in a Hurry Keto Bar
Best healthy meat snack: Stryve's Peppered Biltong
Best healthy nut snack: Toodaloo Adaptogenic Trail Mix, BBQ
Best healthy popped & puffed snack: Chasin' Dreams Farm Sweet & Salty Popped Sorghum
Best healthy protein snack: Malua, Chocolate Peanut Butter
Best healthy sweet snack: SkinnyDipped Cashews
How They Ranked By Taste:
Watch out taste test video and check out how each winner ranked below.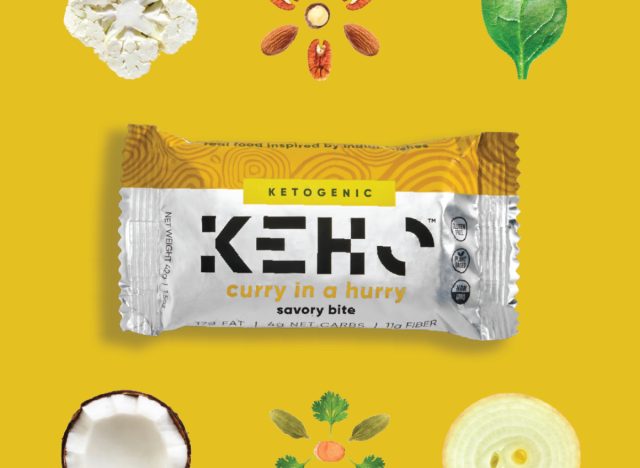 1 bar: 200 calories, 17 g fat (3 g saturated fat), 160 mg sodium, 15 g carbs (11 g fiber, 2 g sugar), 5 g protein
A meal in a bar, this keto offering is billed as "curry without the rice." It's made with cauliflower, coconut, nuts, spinach, prebiotic fiber, and a blend of Indian spices.
The expert's take: "A savory bar allows for awesome flavor without having to worry about added carbs. Made with all-natural ingredients like real cauliflower, spinach, and nuts, these bars are a perfect on-the-go option that isn't loaded with artificial sweeteners that can sometimes be hard to tolerate," says Manaker.
Our tasting notes: "The complexity of flavors here is unmatched by any other snack I've ever tried, but the earthiness threw me off based on what my brain has been primed to expect when eating a meal bar," says Senior Editor Olivia Tarantino.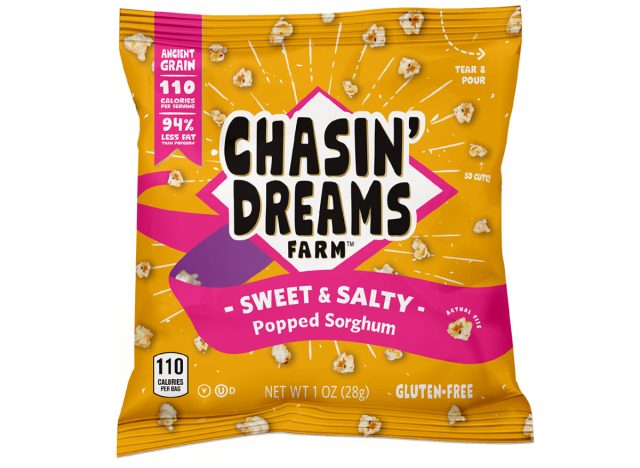 1 ounce: 110 calories, 0.5 g fat (0 g saturated fat), 150 mg sodium, 24 g carbs (2 g fiber, 10 g sugar), 2 g protein
Instead of kettle corn, try kettle sorghum! This ancient grain is a fraction of the size of corn, which delivers tiny pops of crunchy deliciousness in every bag.
The expert's take: "Sorghum is an ancient grain that is naturally packed with antioxidants. And if you are a popcorn lover but you hate those little kernels that get stuck in your teeth, popped sorghum is your best bet. Plus, the sorghum is a natural source of fiber, making it a snack that also supports gut health," says Manaker.
Our tasting notes: "I'm not usually a fan of anything 'caramel' flavored—and that's because it's typically done with fake flavors. You'll find none of that here. The flavors are pure and crisp, but the super tiny size of each of the kernels makes this snack a little bit harder to eat than a big bag of popcorn," says Tarantino.
1 package: 130 calories, 5 g fat (0 g saturated fat), 260 mg sodium, 19 g carbs (1 g fiber, 0 g sugar), 1 g protein
These crackers are a gluten-free, grain-free dupe of that childhood classic square cheese crunch. Rather than being made of wheat and cheese, they use a blend of cassava flour and green banana flour that utilizes otherwise wasted bananas and turns them into flour.
The expert's take: "Using green banana flour in these crackers gives this snack some natural prebiotic fiber, which can help support a healthy gut microbiome. These gluten-free crackers are made with natural ingredients to offer a simple option to accompany snacktime," says Manaker.
Our tasting notes: "I didn't expect much cheese flavor based on the brown color of the cracker, but boy, was I surprised. These thin squares are mighty flavorful and tasty without needing any dairy—the 'cheezish' flavor comes from a balanced blend of yeast extract and spices," says Tarantino.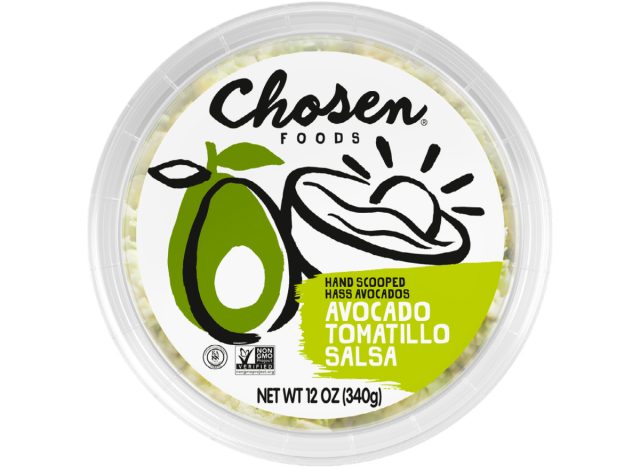 2 Tbsp: 25 calories, 2.5 g fat (0 g saturated fat), 125 mg sodium, 2 g carbs (1 g fiber, 0 g sugar), <1 g protein
Chosen Foods thought, "Everyone likes guacamole and salsa, so why don't we combine them?" And we were subsequently in awe of their genius. This avocado-based salsa combines perfectly-ripe Haas avocados with tomatillo, jalapeño, lime juice, sea salt, garlic, onion, cilantro, and that's it—absolutely no synthetic preservatives!
The expert's take: "This salsa is only made with natural ingredients and no preservatives. And since we are all going avocado crazy these days, it is nice to see real avocados as the first ingredient listed on the food label," says Manaker.
Our tasting notes: "If you like green salsa but are always slightly disappointed that you can't get more of it on your chip because it's just a little too thin, then you need to try this version. The avocado provides integrity (and healthy fats) to this tomatillo salsa, making it perfectly dippable," says Tarantino.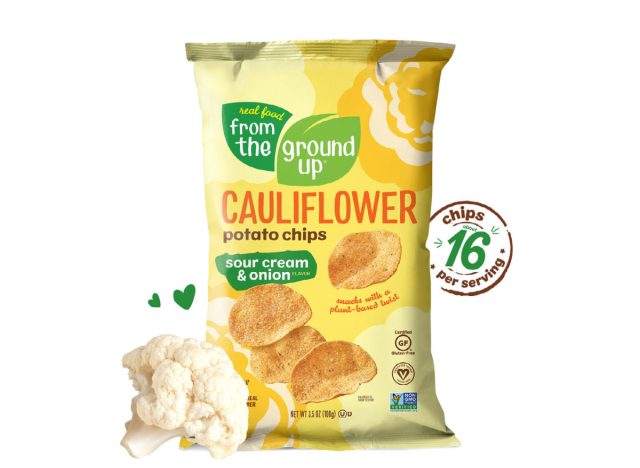 16 chips: 140 calories, 7 g fat (1 g saturated fat), 290 mg sodium, 18 g carbs (1 g fiber, 1 g sugar), 1 g protein
Just before you thought cauliflower couldn't turn into another type of snack food, REAL FOOD FROM THE GROUND UP said, "Hold my drink." Cauliflower pairs with gluten-free cassava flour as the base for these low-fat, veggie-packed potato chips.
The expert's take: "Some cauliflower-based snacks totally miss the boat when it comes to flavor. But REAL FOOD FROM THE GROUND UP Sour Cream and Onion Cauliflower Potato Chips nail it in both the taste and the nutrition department. Made with real cauliflower and a veggie blend that contains spinach, broccoli, carrot, tomato, beet, and shiitake mushrooms, noshing on these crispy snacks is a great swap for potato chip lovers (and who isn't a potato chip lover?). Not only that, this Sour Cream & Onion flavor is dairy-free, so the snack is entirely plant-based and vegan," says Manaker.
Our tasting notes: "Wow, can you say, 'healthy Pringle?' The sour cream and onion flavor is spot-on for what I was expecting, but the cassava and cauliflower give this chip a much more delicate texture compared to potato-based Pringles, which is extremely refreshing," says Tarantino.
1 ball: 60 calories, 3 g fat (0.7 g saturated fat), 60 mg sodium, 5 g carbs (1 g fiber, 3 g sugar), 2.5 g protein
You've never had energy bites quite like this before. Malua's bites are made with a blend of prebiotic green banana powder and superfoods to nourish your microbiome: a community of trillions of bacteria that exists in your gut and supports many aspects of your health, from your immunity to your mood.
The expert's take: "This snack is made with nourishing ingredients like peanut butter and cocoa. And while many protein snacks double as a sugar bomb, these only contain 3 grams of sugar per ball. Using date syrup helps make these snacks a good choice, as this sweetener is considered to be a lower glycemic option vs. table sugar, potentially helping prevent blood sugar spikes. With no preservatives and nothing artificial, these snacks are a good-for-you option that packs a punch in the nutrition department," says Manaker.
Our tasting notes: "Nothing super-crazy is happening texturally here. The bites have the texture of a chewy fig bar, and they are perfectly portioned," says Tarantino.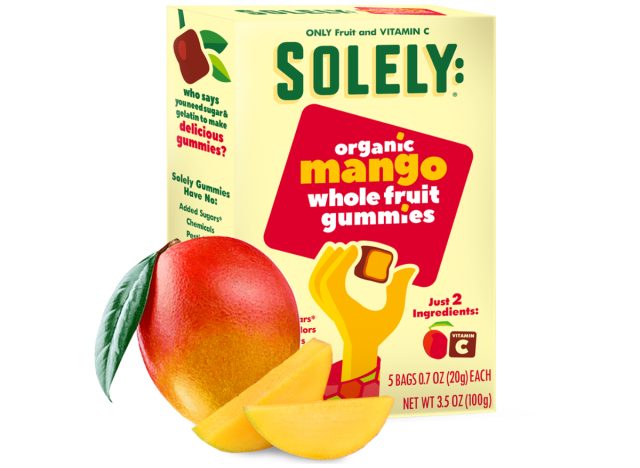 1 pouch: 70 calories, 0 g fat, 14 g carbs (1 g fiber, 7 g sugar), 0 g protein
There's no gelatin, glucose syrup, or artificial ingredients here. These organic gummies contain only two ingredients—mango and vitamin—for a simply sweet whole-food-based snack.
The expert's take: "These snacks are made with natural mango that is naturally sweet—eliminating the need to add any sugar to this snack. The individual snack size bags make them easy to enjoy on the go and even pack in a child's lunch box. And since they are made with only two ingredients, nobody has to question what they are putting into their body," says Manaker.
Our tasting notes: "If you're a mango fan, you're going to love this snack because it tastes of pure mango. Unlike dried mango strips that are a bit hard and fibrous, Solely's bites are tender with a light chew that will help slow you down so you don't down the entire pouch in one handful (which is very possible based on how tasty they are!)," says Tarantino.
1 ounce: 110 calories, 4 g fat (0 g saturated fat), 240 mg sodium, 14 g carbs (3 g fiber, 2 g sugar), 6 g protein
Gone are the days of deep-fried potatoes. Say hello to the best innovation in crunchy snacking: Bada Bean Bada Boom. These crunchy bean snacks are made from whole broad beans that are baked and then dusted with a crispy layer of flavor-packed seasoning.
The expert's take: "Everything but the bagel seasoning goes well on just about everything—including fava beans! Having a snack that is packed with plant-based protein, natural fiber, and antioxidants is important when trying to tackle hunger. And with the satisfying taste of everything but the bagel seasoning included in this snack, noshing on them can make snack time both enjoyable and nourishing," says Manaker.
Our tasting notes: "To me, nothing is as satisfying as a crunchy snack, and these broad beans certainly fit the bill. While they're not a perfect dupe of your favorite bagel, notes of garlic and onion do come through for an umami-rich bite. The bag may be small and the calories low, but your stomach will be full and happy once you've polished it off (thanks to it being a great source of protein and fiber)," says Tarantino.
23 crisps: 170 calories, 13 g fat (9 g saturated fat), 420 mg sodium, 2 g carbs (0 g fiber, 0 g sugar), 10 g protein
This is going to be your new favorite flaming hot cheese snack! These cheese crisps are made of 100% baked cheddar cheese and simply seasoned with a blend of spices reminiscent of everyone's go-to bar food: buffalo wings.
The expert's take: "Hot and spicy usually also means fried when it comes to snacks. But Whisps' Hot & Spicy cheese crisps, baked with 100% cheddar and spices, have 9 grams of protein and only 2 grams of carbs per serving, making these a craveable yet healthy snack," says Manaker.
Our tasting notes: "Whisps are a cheese snack that knows how to balance crispy and buttery. These cheddar cheese crisps don't break into a million pieces upon first bite—there's a solid amount of integrity that makes it easy to eat each crisp in two bites (but you probably won't have to be concerned with that after finishing your first one). This high-protein, low-carb snack is tangy, yet packs a little less heat than I expected. Alas, it makes polishing off the entire bag much more enjoyable than eating through it with your mouth feeling like it's on fire," says Tarantino.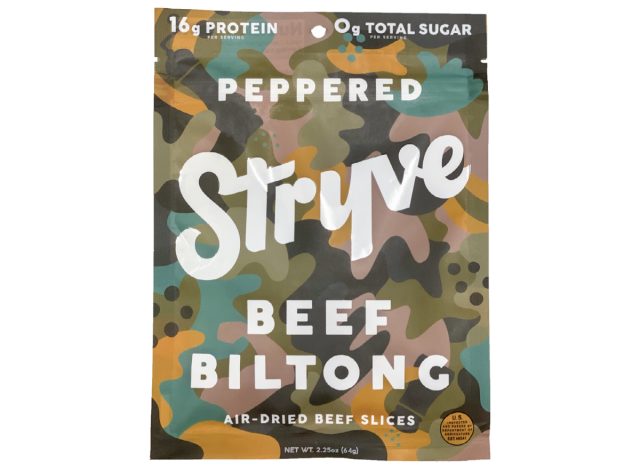 1 ounce: 90 calories, 2 g fat (0 g saturated fat), 430 mg sodium, 0 g carbs, 14 g protein
Biltong is like jerky—but better. Specifically, biltong is a process for preserving meat by air drying that uses no sugar, MSG, gluten, nitrates, or preservatives.
The expert's take: "Meat snacks can make for a great choice for people who are focused on eating protein-rich snacks without a ton of carbs. But unfortunately, many options can be loaded with nitrates and nitrites—ingredients that have been linked to some unsavory health outcomes. This biltong uses vinegar as a preservative instead of what we commonly see used in jerkys and other meat snacks, making this option a safer choice when supporting your overall health," says Manaker.
Our tasting notes: "The meat is thinly sliced, making it mouth-meltingly tender but also somewhat crispy (in a good way). The peppered bag should be a go-to for anyone looking for a solid protein snack, but it might be lacking for those in search of a flavor bomb," says Tarantino.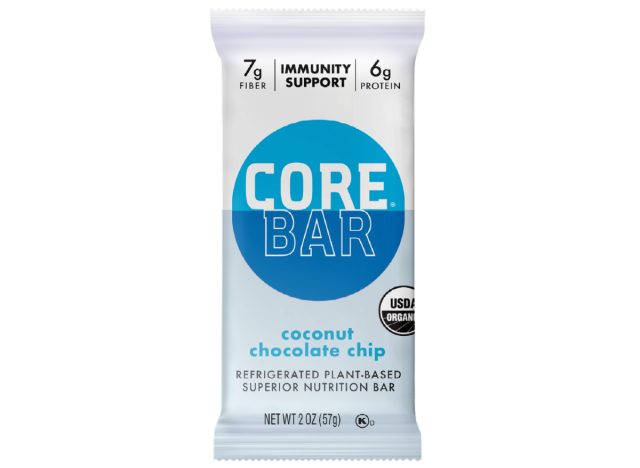 1 bar: 240 calories, 13 g fat (6 g saturated fat), 160 mg sodium, 30 g carbs (7 g fiber, 9 g sugar), 6 g protein
CORE Bars need to be refrigerated because they're made with real food (not preservatives). This bar contains prebiotics and probiotics for an all-in-one gut health solution that supports healthy digestion and a satisfied stomach, thanks to 6 grams of protein and 7 grams of fiber per bar.
The expert's take: "Enjoying these bars makes it simple to support gut health, thanks to the prebiotics and probiotics they contain. And thanks to the addition of ingredients like roasted peanuts and chia seeds, these bars also contain a boost of healthy fats that our bodies need to function properly. These bars are a great solution for busy people who tend to skip probiotic-rich foods like yogurts, kefir, and other fermented foods," says Manaker.
Our tasting notes: "If your favorite candy as a kid was an Almond Joy, man do I have the snack for you. This is like a grown-up version of the classic coconut candy that isn't cloyingly sweet. Unlike other meal replacement bars that either fall apart after one bite or take forever to chew because they're mostly dried fruit, CORE Bars strike the perfect balance of bite-worthy texture and incredible flavor," says Tarantino.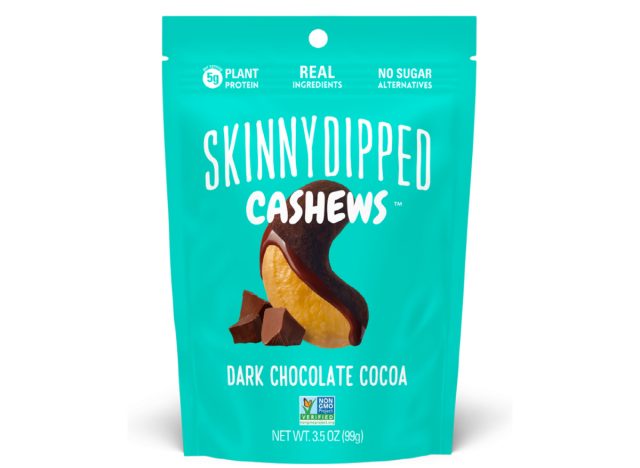 1 ounce: 150 calories, 12 g fat (3 g saturated fat), 80 mg sodium, 10 g carbs (1 g fiber, 5 g sugar), 5 g protein
These aren't your average chocolate-covered nuts. Somehow, Skinny Dipped has figured out a way to delicately coat these cashews with a thin, velvety layer of rich chocolate that tastes like the finest truffle you've ever had.
The expert's take: "I love how these snacks contain plant-based protein to help promote satiety. And these Skinny Dipped snacks have just enough chocolate to satisfy cravings without going overboard. Dark chocolate is a natural source of antioxidants and contains important minerals like magnesium and copper. So, enjoying these sweet treats also gives your body some important nutrition," says Manaker.
Our tasting notes: "These cashews have a chocolatey taste that rivals any high-end chocolate you've been gifted for Valentine's Day. They're perfectly crunchy, slightly salty, and sweet enough to satisfy any sugar cravings," says Tarantino.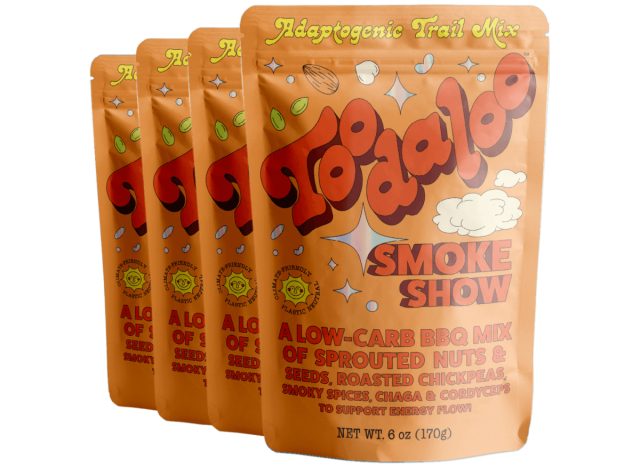 1/4 cup: 150 calories, 13 g fat (1.5 g saturated fat), 150 mg sodium, 6 g carbs (3 g fiber, 1 g sugar), 7 g protein
Toodaloo brought trail mix into the 21st century. This nut and seed blend is made with healing, adaptogenic herbs and real superfoods like roasted chickpeas, nuts, and seeds.
The expert's take: "Some nut mixes can be packed with ingredients like sugar and unhealthy oils, but this mix contains no added sugars and is loaded with natural flavors like lemon peel and chiles. Plus, the adaptogenic ingredients are an added bonus to help people keep their 'chill'—and who doesn't need that these days?" says Manaker.
Our tasting notes: "Goodbye my sweet, sweet BBQ potato chips! This trail mix boasts the same addictive flavors of my favorite bag of chips but with an incredible textural complexity thanks to a blend of five different nuts, seeds, and legumes. I literally eat these by the handful," says Tarantino.
For more, sign up for the Eat This, Not That! newsletter to get the latest grocery news delivered straight to your inbox!
https://www.eatthis.com/news-best-healthy-snacks-2022-food-awards/