Carbon Neutral Shopping Tips & Ideas
3 min read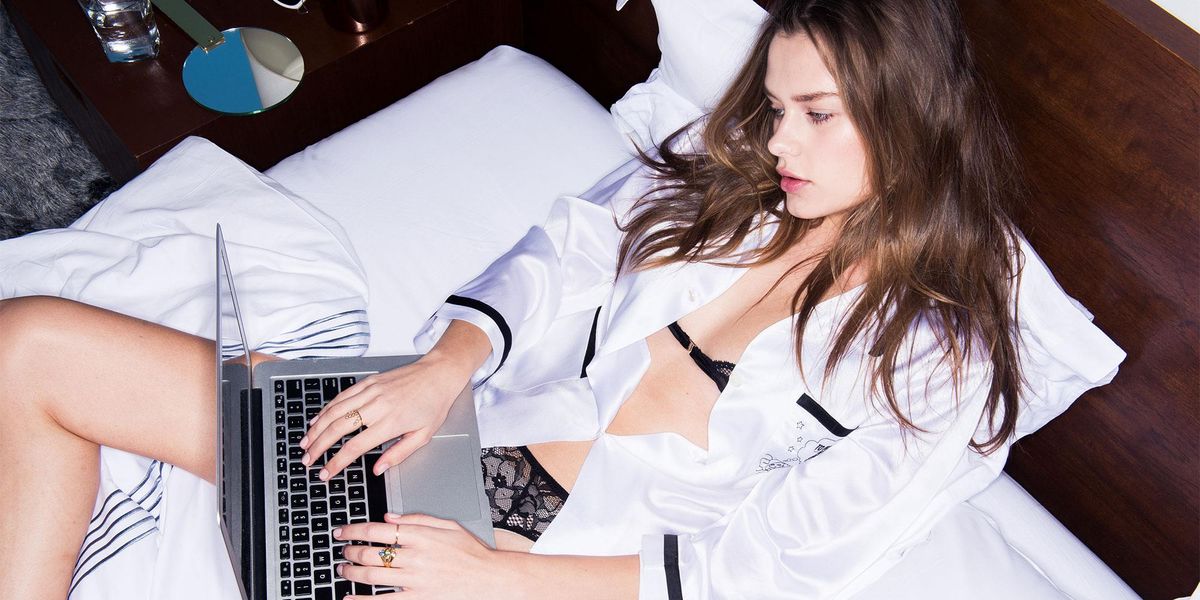 Has anyone else been getting emails after placing an online order that inform you about the carbon neutrality of your incoming jeans or whatever? We keep getting emails that say things along the lines of, "Your order has been made carbon neutral!" It's nice, but admittedly it hasn't always necessarily been on purpose—more of a happy accident.
We'd like it to be on purpose, though. So we started poking around: How can we make online shopping more carbon neutral? To get a better sense of what exactly carbon neutrality is and how it works, we spoke with Horst Robertz, the managing director of Babor, based in Germany. Of course, leave it to Germans to show us up on eco-friendliness and efficiency: Babor isn't just carbon neutral, but climate neutral, which means they "not only reduce and compensate carbon, but all emissions that affect the climate," Robertz says.
How should I choose carbon-neutral brands when I shop?
Do a little research before you click "buy." As Robertz puts it, "It's all about transparency." If you can't find a brand's sustainability ethos, that's probably not a great sign. You can always reach out and ask—any brand worth their weight in customer service should be able to tell you about their sustainability practices, if any.
The greenest brands will have a zero-waste ethos. But at very least, look out for companies that offer carbon-neutral shipping—so that every shipment's carbon dioxide emissions are offset by other means. For example, UPS's carbon-neutral shipping has focused on offsetting emissions with reforestation, landfill gas destruction, wastewater treatment, and methane destruction.
How does a brand become carbon neutral?
"This has been a process," Robertz says. It all started 15 years ago, when the brand partnered with DHL GoGreen. "With the GoGreen program, DHL reduces emissions that occur when shipping products," he says. "All packages that leave headquarters are carbon neutral."
But to achieve not just carbon-neutral status but climate neutrality, there was more work to do. "We invested further to support climate projects around the globe," he says. "At our headquarters, we've been using green electricity from a water power plant since 2010. Since 2014, our production has been carbon neutral, as the production process gets its energy from eco-friendly gas."
And by collaborating with a renowned NGO climate partner, the brand became a climate neutral company last year. "We're accounting for our emissions according to the Greenhouse Gas Protocol, the global standardized frameworks to measure and manage greenhouse gas emissions. This includes the delivery of all raw materials and packaging materials, as well as all business trips."
Extra credit: How does a brand become climate neutral?
Robertz says his brand shaped a process to define how they'll continue their sustainable efforts, which they call the "green agenda." This is the company's "roadmap to more sustainability, and defines key performance indicators that are transparent and can be measured," he says.
In other words, climate neutrality isn't just about offsetting carbon emissions, though that's an important step. "When we talk about carbon emissions, our goal is not only to compensate for them, but to actively reduce our carbon emissions by 50 percent by 2025," Robertz says. "We've introduced a carbon dashboard that tracks our emissions in real time, offering insights into how we can reduce them."
Their efforts have been paying off: Babor was recently awarded with the European Responsible Care Award for this initiative. Next steps: They're enlarging their forest (!) and just started building a sustainable skin care factory near their headquarters. "This factory will be highly energy efficient and, in the mid-term, will produce its own energy," he says.
Even if you can't buy from solely climate-neutral brands, take a second before you enter your credit card and look into your favorite cosmetics company or fashion line's sustainability efforts. It certainly can't hurt—and it just might help you make greener choices.
window.REBELMOUSE_ACTIVE_TASKS_QUEUE.push(function(){
window.REBELMOUSE_STDLIB.loadExternalScript("https://htlbid.com/v3/coveteur.com/htlbid.js", function() {
});
});
window.REBELMOUSE_ACTIVE_TASKS_QUEUE.push(function(){
!function(f,b,e,v,n,t,s){if(f.fbq)return;n=f.fbq=function(){n.callMethod?n.callMethod.apply(n,arguments):n.queue.push(arguments)};if(!f._fbq)f._fbq=n;n.push=n;n.loaded=!0;n.version='2.0';n.queue=[];t=b.createElement(e);t.async=!0;t.src=v;s=b.getElementsByTagName(e)[0];s.parentNode.insertBefore(t,s)}(window, document,'script','https://connect.facebook.net/en_US/fbevents.js');fbq('init', '1248680838922690');fbq('track', 'PageView');
});
window.REBELMOUSE_ACTIVE_TASKS_QUEUE.push(function(){
window.REBELMOUSE_STDLIB.onElementInViewport({ threshold: 400, selector: "video", oneTime: true, onIntersect: function(entry){ var element = entry.target; element.setAttribute("allow","autoplay"); element.loop = true; element.muted = true; element.autoplay = true; element.setAttribute("playsinline","true"); //element.controls = false; element.play(); } });
});
https://coveteur.com/carbon-neutral-shopping