Benefits of Diligent Walking Every Day
3 min read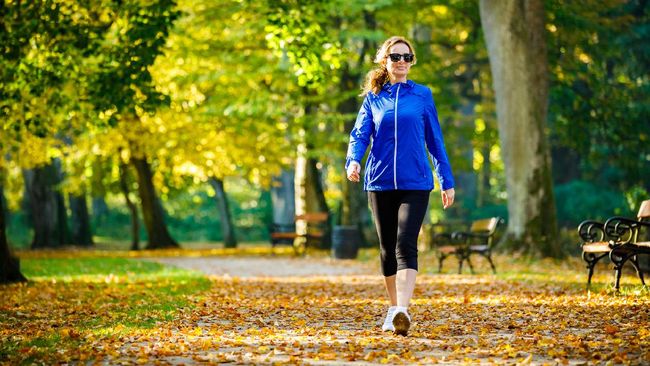 Walking is one of the most recommended physical activities because of its health benefits. Here are the advantages of diligently walking every day.
Walking is indeed an easy alternative for those of you who are just starting to exercise. You don't need to bother preparing many tools. Instead, bring yourself while enjoying the scenery around you.
On the other hand, walking makes the body feel better.
Walking, like an exercise in general, has been shown to reduce symptoms of depression and anxiety while improving cognitive function, sleep, and memory.
Improve mood
"This is because first, oxygen saturation and blood vessel growth occur in areas of the brain associated with rational thinking and social, physical, and intellectual performance."
Second, exercise such as walking helps reduce stress hormones and increases serotonin and norepinephrine, chemicals in the brain known to speed up information processing.
Endorphins and dopamine are released into the body and brain during and after exercise, usually with a mood-boosting effect.
Clear your mind
A unique benefit of walking is bilateral stimulation, making the mind more straightforward.
"There are evidence-based psychological treatments, such as Eye Movement Desensitization and Reprocessing (EMDR) that take advantage of the positive impact of bilateral brain stimulation on mental health, and walking is an effortless and affordable way to do this," says Haris.
Boost energy
Walking can also give you a much-needed energy boost.
"Walking increases blood flow throughout the body and brain,"
He adds that it encourages people to feel more energized due to increased levels of oxygenated blood flowing throughout the body.
"It is important to remember that physical activity does not need to be intense to be generally considered beneficial in reducing the risk of clinical depression, and walking alone is sufficient."
Where should you walk?
There are no hard and fast rules about where you should walk, as long as you are outside.
However, it has been proven that spending time in and around nature can improve our mental health and well-being.
"Walking in green spaces combines the process of meditation in motion with the benefits of a forest bath (walking among trees and common greenery,"
"It has been scientifically proven to show that spending time in nature reduces stress and cortisol levels and improves mood."
"There is growing evidence to suggest that being in nature improves our cognitive and emotional well-being. This includes increased attention, cognitive flexibility, and working memory, along with reduced stress levels and increased happiness and well-being."
But if you live in a city and are not close to green spaces, the benefits of walking are still there.
How long should you walk?
Taking a walk doesn't have to take up much of your day or even a lot of energy.
Short walks regularly and relaxed is enough to move the brain.
"Walking to get benefits doesn't have to be a long journey," he says.
However, it should be at least 20 minutes because this duration is the time it takes for "feel-good hormones" like dopamine and serotonin to be stimulated and released. (Gadang Malang, January 06th, 2022)