Adele talks fans through her "super healthy" food shop
2 min read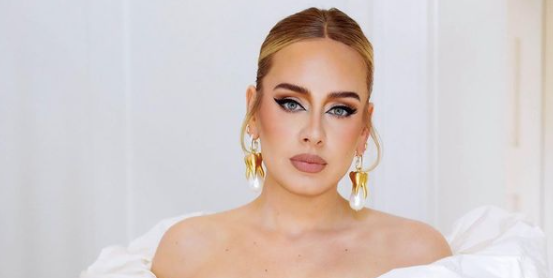 In case you've been living under a rock, you'll have got the memo that Adele is back.
We were treated to a brand new song – Easy on Me – from everyone's favourite superstar, and her upcoming album 30 is due to be released on 19 November. All of this means that the generally very private singer and mum of one is doing some press interviews, and we're able to get a glimpse into her life behind closed doors.
And behind closed doors perfectly sums up Adele's most recently-released bit of press – because the crew of Vogue's video series 73 Questions got an invite into her Los Angeles home for a chat and a look around.
During the interview, Adele showed the interviewer around her kitchen, which she described as being designed to look like it's in the "English countryside." At this point, she started unloading a food shop from paper bags, and talking fans through her healthy eating habits.
As Adele pulled fruits, veggies and herbs out of the bags, she was asked if this was a typical grocery shop for her, to which she answered "yes and no."
"This looks super duper healthy because I'm making a vegetable soup tonight," Adele explained, before sharing the foods she often buys for her nine-year-old son, Angelo.
"Normally there are some sugar cereals for my son and stringy cheese which he loves. Milkshakes and things like that," she said.
Adele then circled back to her own healthy eating and the pile of fruit and veg in front of her, saying: "I watch what I put into my body these days."
This content is imported from Instagram. You may be able to find the same content in another format, or you may be able to find more information, at their web site.
Multiple times, Vogue's questions turned to Adele's life as a British person living in America, and in the kitchen, the chat focused on the star's top UK supermarkets.
When asked "Tesco or Sainsbury's?", Adele revealed where she likes to do her shopping best of all.
"I'd say Tesco simply because that was the only supermarket that was in my neighbourhood when I was growing up, but actually it's Marks and Spencers," she said.
Just us now imagining Adele pushing her trolley around the M&S food hall, stocking up on items for her next batch of veggie soup?
This content is created and maintained by a third party, and imported onto this page to help users provide their email addresses. You may be able to find more information about this and similar content at piano.io
https://www.cosmopolitan.com/uk/body/diet-nutrition/a38033777/adele-healthy-food-shop/