10 Best Water Flossers of 2022
5 min read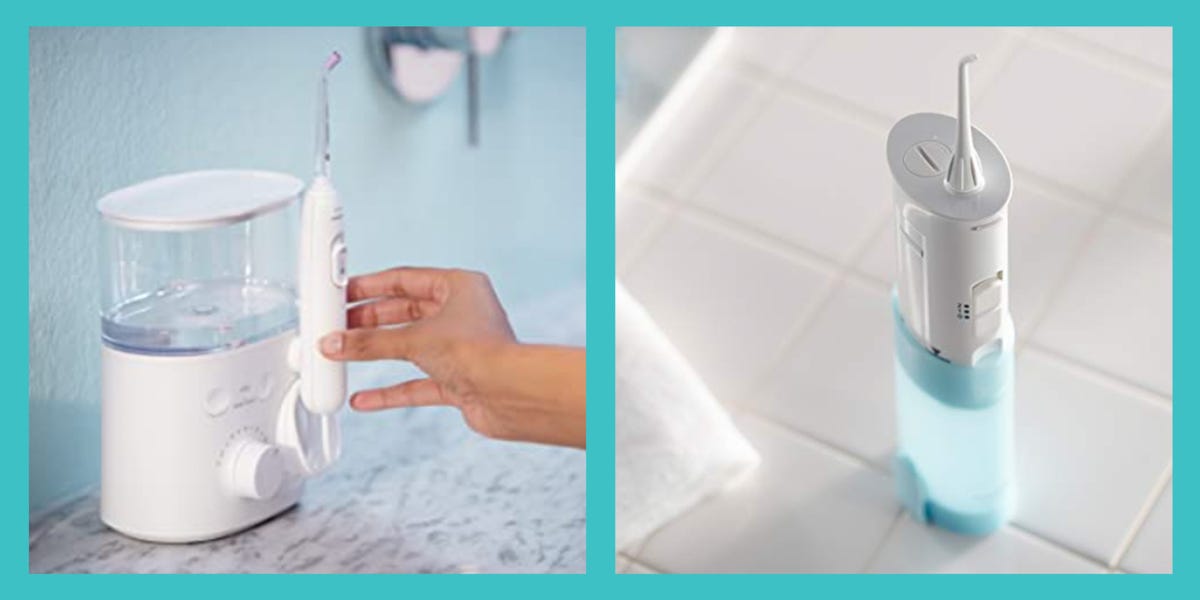 There's nothing like the gleam of bright, white, clean teeth after going to the dentist. Though getting that same result daily can be hard to recreate. The good news is that you can get super-clean feeling teeth at home using the best water flossers and waterpiks.
A water flosser (a.k.a. oral irrigator) is a health appliance designed for dental care at home. It works by using a targeted stream of water to remove plaque, food particles, and bacteria in a way that's more comfortable and easier than traditional string floss. However, experts say it isn't necessarily better to use one over the other. Instead, you should use both tools to properly remove particles from between your teeth and gums, helping to prevent cavities.
"Water flossers have great benefits for the actual gum tissue, maybe less of a benefit in between the teeth," says Amanda Lewis D.D.S, a cosmetic dentist based in Dallas. "I find that traditional floss can be used to clean in between the teeth and down at the gum underneath the level where most things can reach. The two together can be very effective around implants—implants have a different contour coming out of the gum tissue," Dr. Lewis explains.
How to choose the best water flossers and waterpiks

When shopping for water flossers, there are a few things dentists recommend you keep in mind:
✔️ Pick the right tip. "Consider the tip type," says Wesam Shafee D.M.D., aesthetic dentist and founder of Smile Care Dental Group in Paramus, NJ. There are various tips for different dental needs, like orthodontic tips for braces, plaque tips for implants, denture tips, and more. In addition, the tips should also be replaced every three to six months, depending on what the brand advises.
✔️ Check out reviews. "Read reviews about ease of use, maintenance, and durability," adds Dr. Shafee. This will help you determine the sizing, portability, and unique features certain water flossers offer.
✔️ Ask your dentist. The number one thing to do is "ask your dentist for recommendations," says Dr. Shafee. Depending on your specific dental needs, your dentist will provide the best recommendations on what can work for you.
Now that you know what to look for, it's time to shop! Ahead, find 10 top-rated dentist-approved water flossers and waterpiks.
1
BEST OVERALL
Aquarius Water Flosser
"This is powerful yet gentle on teeth and gums. It helps with deep cleaning," says Dr. Shafee. This pick is also a bestseller on Amazon and has over 71,000 five-star global ratings. It works to remove 99.9% of plaque from the teeth, (according to the brand) comes with several flossing tips, and a one-minute timer to help you thoroughly clean all areas inside your mouth.
2
BEST VALUE
Water Flossing Cordless Oral Irrigator
This cordless pick is designed with a lithium battery that can be charged with a power bank, computer, or car charger. Once it's been fully charged for four hours, it can last for two weeks, according to the brand. Its features include three operating modes, ranging from normal to pulse. And it comes with five tips for particular uses like a tongue cleaner tip, plaque tip, orthodontic tip, and more. "It helps in plaque reduction and is easy to use," says Dr. Shafee.
3
BEST TRAVEL-FRIENDLY
Water Flosser Advanced
This pick from Dr. Lewis is a must-have for those looking to clean their teeth frequently after eating. It has a unique oxyjet technology that uses water enriched with air microbubbles to help remove plaque bacteria for healthier gums. It also offers three intensity modes, allowing you to choose an intense, medium, or sensitive cleaning pressure.
4
BEST COMPACT
Power Flosser 5000
Another pick from Dr. Lewis, this water flosser will give you an effortless, thorough clean between your teeth and help improve your gum health. Its quad stream technology helps to cover more area within your mouth with less effort, while its unique pulse wave technology works to guide you from tooth to tooth. You can also select between two different cleansing modes—go with the clean mode for a continuous flow of water, or select the deep clean mode to use targeted pulses of water.
5
BEST CORDLESS
Cordless Water Flosser
Perfect for pedestal sinks, travel, and use in the shower, this next pick from Dr. Lewis is great for people constantly on the go. It's just as powerful as the countertop version but does not require the daily use of electrical outlets. This water flosser comes with five tips, has a high-volume covered reservoir, a hygienic tip storage compartment, and an advanced pressure control system with 10 settings.
6
Cordless Dental Water Flosser
Unlike traditional dental floss, this portable oral irrigator creates rapid, targeted water jets to comfortably and thoroughly help remove food particles, plaque, and bacteria from between the teeth and gums. It's crafted with a few unique features as well—a collapsible design allows it to fit into tight drawers or small cabinet spaces and in bags while traveling. It also has an easy-to-fill reservoir that holds 5.5 ounces of water, providing up to 40 seconds of water flossing action, according to the brand.
7
New Generation Oral Irrigator
Hydrofloss and Quantum Labs
"This an excellent compact irrigator, which my dentist recommended. It's well-designed and an efficient cleaner," wrote one satisfied Amazon customer. Designed to clean under the gum line and between the teeth, this tool uses magnetics to change the water and remove bacteria living on the surface of the teeth. Its features include a water steam of 1,200 pulses per minute, a water stop button on the handle, and four color-coded tips.
8
Sonic-Fusion 2.0 Professional Flossing Toothbrush
Another pick from Dr. Lewis, this new and improved water flosser comes with a bristle tip speed that works twice as fast as the original. The best part? You don't even have to switch between your toothbrush and flosser, this tool allows you to brush and water floss, saving you time and space. It comes with two patented water flossing brush heads and two brush head covers.
9
Water Dental Oral Irrigator
With over 4,700 five-star global ratings on Amazon, you can count on this water flosser to get the job done. It comes with three high-pressure tips and five special-use jet tips (orthodontic, tongue cleaner, periodontal, dental plaque, and a toothbrush tip). But what makes this oral irrigator so different from the rest is its 10 adjustable water pressure settings, making it easy to use for every household member. The brand notes that pressure one through four should be used for kids!
10
Poseidon Oral Irrigator and Sonic Toothbrush
Toilet Tree combined two of their best-selling items to create the ultimate dental care combo set. You can keep both your water flosser and sonic toothbrush fully charged up in just one base. The flosser has three mode settings, normal, soft, and pulse. Plus, it includes two color-coded and interchangeable tips for multiple members in your household.
This content is created and maintained by a third party, and imported onto this page to help users provide their email addresses. You may be able to find more information about this and similar content at piano.io

https://www.prevention.com/life/g39175182/best-water-flosser/